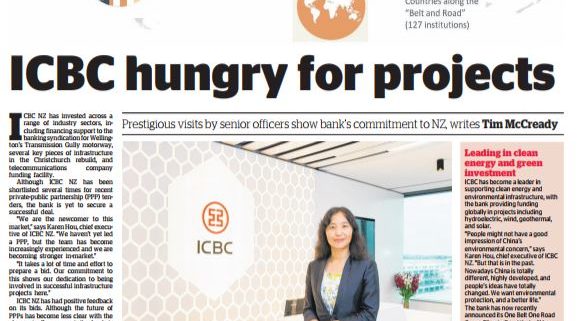 ICBC NZ has invested across a range of industry sectors, including financing support to the banking syndication for Wellington's Transmission Gully motorway, several key pieces of infrastructure in the Christchurch rebuild, and a funding facility for a telecommunications firm.
Although ICBC NZ has been shortlisted several times for recent private-public partnership (PPP) tenders, the bank is yet to secure a successful deal.
"We are the newcomer to this market," says Karen Hou, chief executive of ICBC NZ. "We haven't yet led a PPP, but the team has become increasingly experienced and we are becoming stronger in-market."
"It takes a lot of time and effort to prepare a bid. Our commitment to this shows our dedication to being involved in successful infrastructure projects here."
ICBC NZ has had positive feedback on its bids. Although the future of PPPs has become less clear with the change in Government, the bank is enthusiastic about future projects and ready to show its capability.
"It is important to have new players in the market," she says. "Having more expertise, funding sources and competition is crucial for long-term, sustainable growth."
ICBC head office has signalled the significance it places in investing in New Zealand.
The bank's new global chairman, Yi Huiman, visited New Zealand as part of his first international trip last year, meeting with the Government to discuss New Zealand's infrastructure investment needs.
"The new board is two years old, and three of the most senior members – chairman of the board, CEO, and chairman of the supervisory board – have already come to New Zealand," says Hou. "That is unprecedented, and demonstrates that they are very supportive of ICBC's activity here."
One Belt One Road
China's One Belt One Road (OBOR) initiative aims to be the world's biggest infrastructure project, and encourages Chinese companies to implement infrastructure programmes that help to integrate Asia, Europe, and Africa.
Chinese President Xi Jinping said of OBOR: "The initiative aims to promote orderly and free flow of economic factors, highly efficient allocation of resources and deep integration of markets by enhancing connectivity of Asian, European and African continents and their adjacent seas."
Previously, he said: "the programmes of development will be open and inclusive, not exclusive. They will be a real chorus comprising all countries along the routes, not a solo for China itself."
Hou says ICBC reflects President Xi's importance placed on investment in global infrastructure – the bank is present in 18 countries along the Belt and Road, loaning US$78.6 billion (NZ$113b) against 288 projects.
New Zealand is at one end of the economic corridor, stretching from the South Pacific through Southeast Asia and into Europe.
Though there is demand for infrastructure projects in New Zealand, Hou says she wishes there were more opportunities available.
"Although there are currently not many PPP projects available for investment, we hope there will be more launched soon," she says.
"There is a huge demand for further infrastructure in New Zealand, but New Zealand is short of the capital, skilled labour and quick decision-making."
Hou sees this as a great opportunity for both countries. New Zealand can provide projects and investment opportunities, while China brings experience and expertise across a range of infrastructure classes – bridges, railways, motorways, schools, power and water – along with capital.
Hou says ICBC has around six million corporate customers in China. The bank has a very robust credit approval system, knows their background, and understands their involvement in global projects.
"Many corporate investors are showing increased interest in investment opportunities in the New Zealand market from China, Asia, and the rest of the world," says Hou.
"When they come to this market, we help to bridge the understanding, knowledge and information gap between the two countries.
"When our customers first come here they always consult us on the current market situation. Because of our intimate understanding of both sides, we have an unparalleled advantage."
Hou says the bank's experience with infrastructure projects across many countries ensures it can identify and select the best Chinese partners.
"The bank wants to deliver successful projects, so it is important to us that we select those companies that have significant global experience on major projects, as well as a good attitude towards environmental protection."
Leading in clean energy and green investment
ICBC has become a leader in supporting clean energy and environmental infrastructure, with the bank providing funding globally in projects including hydroelectric, wind, geothermal, and solar.
"People might not have a good impression of China's environmental concern," says Karen Hou, chief executive of ICBC NZ. "But that is in the past. Nowadays China is totally different, highly developed, and people's ideas have totally changed. We want environmental protection, and a better life."
The bank has now recently announced its One Belt One Road Green Climate Bond that will be listed in a new market known as the Luxembourg Green Exchange (LGX).
The use of proceeds for this bond will be dedicated to ICBC's global financing and refinancing of eligible green assets in renewable energy, low carbon and low emission transportation, energy efficiency, and sustainable water resources management in areas key to the OBOR initiative.
ICBC is the first Chinese bank with a "Green Bond Framework" aligned to both international and Chinese green standards.
It is also the first Chinese bank to receive a "Dark Green" second opinion by the Oslo-based Centre for International Climate and Environmental Research.
https://www.timmccready.nz/wp-content/uploads/2017/10/icbc.jpg
901
579
tim.mccready
https://www.timmccready.nz/wp-content/uploads/2020/03/TimMcCready_banner.png
tim.mccready
2017-10-26 13:27:09
2018-03-30 10:59:41
Infrastructure: ICBC hungry for projects (NZ Herald)