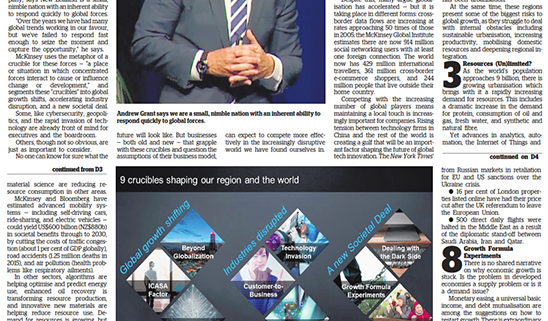 The forces and trends that shape the world are not always front of mind when running a business.
But in a world where trends are dramatically changing the way value is created, they form an important backdrop that all company strategy and planning should be considerate of.
Some of the most successful businesses over the past decade have prospered because they have managed to successfully navigate the challenges and opportunities these global forces bring with them.
Andrew Grant, Senior Partner (Asia-Pacific) at McKinsey and Company, says New Zealand is a small, nimble nation with an inherent ability to respond quickly to global forces.
"Over the years we have had many global trends working in our favour, but we've failed to respond fast enough to seize the moment and capture the opportunity," he says.
McKinsey uses the metaphor of a crucible for these forces — "a place or situation in which concentrated forces interact to cause or influence change or development," and segments these "crucibles" into global growth shifts, accelerating industry disruption, and a new societal deal.
Some, like cybersecurity, geopolitics, and the rapid invasion of technology are already front of mind for executives and the boardroom.
Others, though not so obvious, are just as important to consider.
No one can know for sure what the future will look like. But businesses — both old and new — that grapple with these crucibles and question the assumptions of their business model, can expect to compete more effectively in the increasingly disruptive world we have found ourselves in.
1. Beyond Globalisation
Globalisation as we have known it — and as New Zealand has greatly benefited from — is going to change.
Donald Trump, Brexit, Jeremy Corbyn, TPP: the results of recent elections and referendums worldwide can be attributed to a growing sense of disillusionment, anti-globalisation and protectionism.
Traditional measures of globalisation are also slowing. Trade growth over the past decade has been half of that in the late 1990s and early 2000s.
Following the global financial crisis in 2008-2009, global capital flows as a percentage of GDP dropped dramatically — and have not returned to pre-crisis levels.
Despite this, many argue globalisation has accelerated — but it is taking place in different forms: cross-border data flows are increasing at rates approaching 50 times of those in 2005; the McKinsey Global Institute estimates there are now 914 million social networking users with at least one foreign connection.
The world now has 429 million international travellers, 361 million cross-border e-commerce shoppers, and 244 million people that live outside their home country.
Competing with the increasing number of global players means maintaining a local touch is increasingly important for companies. Rising tension between technology firms in China and the rest of the world is creating a gulf that will be an important factor shaping the future of global tech innovation.
The New York Times' Farhad Manjoo explains: "You can be Alibaba or you can be Amazon. You can be Uber or you can be Didi. But you can't be both."
2. ICASA Factor
Brazil, Russia, India and China (or the "BRIC economies") are four major emerging national economies postulated by Goldman Sachs in 2001 to become among the four most dominant economies by the year 2050 and the biggest drivers for future global growth.
But more than 85 per cent of the growth from the BRIC economies came from China.
McKinsey proposes that ICASA — India, China, Africa and Southeast Asia — will become the dominant force, primarily because the greatest growth engine has been urbanisation.
At the same time, these regions present some of the biggest risks to global growth, as they struggle to deal with internal obstacles including sustainable urbanisation, increasing productivity, mobilising domestic resources and deepening regional integration.
3. Resources (Un)limited?
As the world's population approaches 9 billion, there is growing urbanisation which brings with it a rapidly increasing demand for resources. This includes a dramatic increase in the demand for protein, consumption of oil and gas, fresh water, and synthetic and natural fibre.
Yet advances in analytics, automation, the Internet of Things and material science are reducing resource consumption in other areas.
McKinsey and Bloomberg have estimated advanced mobility systems — including self-driving cars, ride-sharing, and electric vehicles — could yield US$600 billion (NZ$880b) in societal benefits through to 2030, by cutting the costs of traffic congestion (about 1 per cent of GDP globally), road accidents (1.25 million deaths in 2015), and air pollution (health problems like respiratory ailments).
In other sectors, algorithms are helping optimise and predict energy use, enhanced oil recovery is transforming resource production, and innovative new materials are helping reduce resource use. Demand for resources is growing, but innovation and technology provide the opportunity for the world to be more efficient with what we have.
4. Technology Invasion
Technology change is happening continuously. But Grant believes we are underestimating the scale and the pace at which technology is evolving and will shape business. "People don't quite understand how profound and how long the journey is going to be.
"The ubiquity of technologies and the ability to roll it out globally is making new advances far more impactful than ever before."
We're seeing rapid innovation in areas where families of technologies are coming together.
The smartphone brought the touchscreen, applications, CPU, LCD displays, wireless connectivity, and lithium-ion battery technology together with advances in miniaturisation.
The development of the autonomous car is combining video cameras, presence sensors, Radar, Lidar, GPS and CPU technology. Instead of linear step changes, we can expect to see combinations of technologies make the scale of change much more powerful.
5. Customer-to-Business
B2C (business to consumer) and B2B (business to business) have long been commonplace, but digitalisation and new business models are giving consumers the ability to shape goods and services, often receiving free access to what would once have been paid for.
Alibaba's founder and executive chairman, Jack Ma, declared the start of C2B, or consumer to business, open several years ago.
Rapidly growing Chinese mobile manufacturer Xiaomi uses crowd-sourcing to engage with consumers for fast, first-hand feedback on its products. Grant says Xiaomi is becoming representative of where the business world will need to position itself for the future.
Customers are increasingly dictating the terms of what they need (and what they want) directly to companies and the Internet is providing the ability for this to occur as never before. Consumers have an ever-increasing choice, and companies must make decisions about their product offering and which business models they should use to continue to create value.
6. Ecosystem Battles
Five of the 10 largest companies in the United States are platform-oriented. Airbnb now has four million listings globally, more than the top five hotel brands combined.
The company says "on any given night, two million people are staying in other people's homes around the world on Airbnb". Uber might be the world's largest taxi firm, but it doesn't own its cars. Neither of these companies existed 10 years ago.
Alibaba — the world's largest retailer — moved NZ$37b (US$25.3b) worth of stock during its November 11 extravaganza, but doesn't own warehouses to store the eye-watering quantity of products sold through its platforms.
These platforms offer business models that can be enormously disruptive in the way they shape the world, and are shaking up industries that were immune from significant competition in the past.
7. Dealing with the Dark Side
Cybersecurity has become a trillion-dollar issue. Grant says boards of Fortune 500 companies are now spending about 15 per cent of their boardroom agenda on cybersecurity.
The Herald's Mood of the Boardroom in September revealed that New Zealand's executives are highly concerned about the threat, with 67 per cent of respondents now doing significantly more to combat cybercrime and 30 per cent doing more "in a modest way".
Previous Mood of the Boardroom reports suggest a clear — and rapid — trend: in the 2015 survey, cyber crime rated 5.9/10 in terms of impact on business confidence. Last year it became the top issue at 7.16/10, and this year it sat head and shoulders above other issues, with an impact rating of 7.64/10.
Alongside cybersecurity, McKinsey estimates that 81 per cent of executives worldwide single out geostrategic factors as the top risk to growth.
Examples of the severity geopolitics can have on business include:
A 4.5 million shortfall of Russian tourists as a result of the ban on agency tours to Turkey in retaliation for shooting down a Russian warplane.
120,000 tonnes of Norwegian trout and salmon have been banned from Russian markets in retaliation for EU and US sanctions over the Ukraine crisis.
16 per cent of London properties listed online have had their price cut after the UK referendum to leave the European Union.
500 direct daily flights were halted in the Middle East as a result of the diplomatic stand-off between Saudi Arabia, Iran and Qatar.
8. Growth Formula Experiments
There is no shared narrative on why economic growth is stuck. Is the problem in developed economies a supply problem or is it a demand issue?
Monetary easing, a universal basic income, and debt mutualisation are among the suggestions on how to restart growth. There is extraordinary experimentation going on, but no consensus.
Grant says solutions will not be singularly political. They will require business, civil society, and the political arena to come together.
"Some interesting insights are coming from Denmark, Switzerland, Finland, Israel, Singapore… I think New Zealand has a real opportunity to lead on this," he says.
9. Middle-class Progress
The benefits of globalisation have not been distributed evenly. Alhough globally the middle-class have done well, those in advanced nations have missed out.
This has created a widening of earnings disparity, and has been blamed for the increasingly negative view towards immigration, the status quo, and trade deals that appear to favour the boardroom over the workers.
Much disillusionment has been blamed on, and exploited by, politicians, but trust has become a critical flashpoint that companies must address and build back to ensure long-term, sustainable businesses.
Sources: Presentation by Andrew Grant — A new narrative of progress? Major Macro Trends Shaping our Region — to the 2017 Infinz conference; McKinsey report — The global forces inspiring a new narrative of progress.
https://www.timmccready.nz/wp-content/uploads/2017/11/TimMcCreadyseizethemoment.jpg
871
548
tim.mccready
https://www.timmccready.nz/wp-content/uploads/2020/03/TimMcCready_banner.png
tim.mccready
2017-11-24 13:12:36
2018-03-30 10:58:16
Dynamic Business: The value of seizing the moment (NZ Herald)