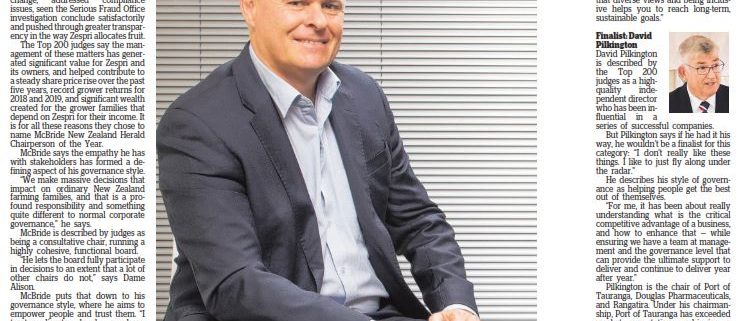 Chairperson of the Year: Peter McBride of Zespri
Peter McBride, Chair of the national kiwifruit export marketer Zespri, has presided over what is expected to be New Zealand's fastest-growing primary export sector in the year ahead, according to Government forecasts.
"Unlike other countries, co-operatives in New Zealand are more influential in the economy," says Deloitte Top 200 judge Dame Alison Paterson. "The primary sector — of which co-operatives are so influential — is a huge driver of the economy."
McBride has been a director of the grower-owned company since 2002, and chairman since 2013. In his time as chair, he has presided over a CEO change, addressed compliance issues, seen the Serious Fraud Office investigation conclude satisfactorily and pushed through greater transparency in the way Zespri allocates fruit.
The Top 200 judges say the management of these matters has generated significant value for Zespri and its owners, and helped contribute to a steady share price rise over the past five years, record grower returns for 2018 and 2019, and significant wealth created for the grower families that depend on Zespri for their income. It is for all these reasons they chose to name McBride New Zealand Herald Chairperson of the Year.
McBride says the empathy he has with stakeholders has formed a defining aspect of his governance style.
"We make massive decisions that impact on ordinary New Zealand farming families, and that is a profound responsibility and something quite different to normal corporate governance," he says.
McBride is described by judges as being a consultative chair, running a highly cohesive, functional board.
"He lets the board fully participate in decisions to an extent that a lot of other chairs do not," says Dame Alison.
McBride puts that down to his governance style, where he aims to empower people and trust them. "I trust my directors deeply — you have to bring out the best in people," he says.
Over the past three years, Zespri has undertaken a change in its capital structure and an affirmation of its single desk status that has gained the support of over 90 per cent of its growers.
Part of this capital structure included a share issue and buyback, which required constitutional changes and for some shareholders to vote in favour of changes that they may not have benefited them individually, but were considered by the board to be in the best interests of Zespri long-term. These include a cap on shareholding and the dividends of dry shareholders to cease after a period.
The judges believe these changes that McBride shepherded through will provide long-term sustainability for Zespri, and are a testament to how strong the co-operative is.
At the time of McBride's announcement as chairman-elect in 2012, the kiwifruit industry was in the middle of the Psa crisis.
"While the industry has had a very tough time from Psa, and its impacts will continue to be felt for a number of years yet, I believe we will overcome the disease," said McBride at the time.
"As Zespri chairman, I will be committed to doing all I can to navigate the industry through these current tough times and returning it to its long-term growth path."
Psa had the potential to gut the New Zealand kiwifruit industry, wiping out the high value Hort16A gold variety in the Bay of Plenty and eroding grower returns.
Dame Alison says at the time of the crisis, McBride had to front up as a leading grower director.
"The whole industry was shut down, and innovative growers were hit the hardest," she says. "Families lost their whole income, and when a company is in crisis, it falls on the chair."
Now, eight years on from when the bacterial disease first appeared in orchards and six years under McBride's leadership, the industry has rebounded after developing new varieties resistant to Pseudomonas syringae pv actinadiae — better known as Psa — and export volumes are thriving.
McBride recently announced his intention to step down as Zespri chair in February 2019, but the judges say he leaves the co-operative — and the industry — in great shape.
"Under McBride's chairmanship, Zespri has demonstrated its ability to innovate, produce gold, sell it with massive returns and do wonders for its various stakeholders into the future."
Finalist: Liz Coutts
Seasoned director and chairperson, Liz Coutts has an impressive resume. She is currently chair of Ports of Auckland, Oceania Healthcare, and Skellerup Holdings — as well as holding a number of directorships. Last year, she also became the Institute of Directors' first female president.
Coutts says each of the diverse companies she chairs are rewarding in their own way, as they are all growing, and all making progress.
"That doesn't mean to say that we don't have road bumps along the way — but they are all making progress. Keeping them in that calm, steady state — and quietly getting on — I find that very satisfying."
The Deloitte Top 200 judges credit Coutts' ability to empower companies to perform for their successful results and wise strategic directions.
Coutts, who was made an Officer of the New Zealand Order of Merit in 2016 for her services to governance, became the first chairwoman of Ports of Auckland in 2015, and has presided over a shift towards a more open and transparent, sustainable, and innovative port.
As chair of Oceania Healthcare, Coutts saw the residential aged care provider through its initial public offering in 2017. Just a year since its dual-listing on the Australian and New Zealand stock markets it has delivered a strong net profit after tax result, increasing 71.5 per cent to $77m and exceeding IPO forecasts.
The aged care industry is set for a bright future, as the baby boomer generation approaches an age where they are turning their minds to residential care. Coutts says delivering on this need is one of the most rewarding aspects in her position at Oceania.
"People want to know there will be places for them to live and people to care for them. We are a care company, for which there is very much a need in society," she says.
"It's very rewarding to be involved in providing for that need."
Skellerup has seen similar positive results, with the rubber-goods maker delivering a record profit this year — rising 23 per cent to $27.3 million and revenue up 14 per cent to $240.4m — driven by strong sales growth both in New Zealand and internationally.
In her nearly 20 years as a full-time director, Coutts' has seen a remarkable change in women in leadership — but she says we have more progress to make.
As President of the Institute of Directors, Coutts hopes to create awareness of the benefits of diversity:
"To be successful, it's a matter of people wanting to do it.
"We need to have the discussion, create awareness, and demonstrate that diverse views and being inclusive helps you to reach long-term, sustainable goals."
Finalist: David Pilkington
David Pilkington is described by the Top 200 judges as a high-quality independent director who has been influential in a series of successful companies.
But Pilkington says if he had it his way, he wouldn't be a finalist for this category: "I don't really like these things. I like to just fly along under the radar."
He describes his style of governance as helping people get the best out of themselves.
"For me, it has been about really understanding what is the critical competitive advantage of a business, and how to enhance that — while ensuring we have a team at management and the governance level that can provide the ultimate support to deliver and continue to deliver year after year."
Pilkington is the chair of Port of Tauranga, Douglas Pharmaceuticals, and Rangatira.
Under his chairmanship, Port of Tauranga has exceeded market expectations, achieving a profit increase this year of 13 per cent to $94.3 million and record annual earnings.
Pilkington attributes the success of the Port of Tauranga to having a clear strategy around its $350 million capital investment programme, which has been very closely linked to its ability to grow the business.
"We completed our capacity expansion programme in 2016 and the effects were almost immediate," he says.
"We are seeing larger container vessels as well as larger bulk cargo and passenger ships."
It is this foresight that the Deloitte Top 200 judges say has seen the companies Pilkington is involved in do incredibly well.
Pilkington was commended by the judges for being influential in his work with Douglas Pharmaceuticals.
He has also been a director of diversified investment firm Rangatira since 2006, and chair since 2013.
Rangatira — whose investments include Hellers, Polynesian Spa, Rainbow's End Theme Park, and Mrs Higgins — operates a flexible investment management strategy that allows it to work alongside owners to maintain what it is that has made the company successful.
He sits on the remuneration committee and is chair of portfolio company Hellers — another success story that he puts down to "the flexibility and willingness to shape what we do around the needs of a very successful business owner".
https://www.timmccready.nz/wp-content/uploads/2018/11/2018chairman.jpg
1079
742
tim.mccready
https://www.timmccready.nz/wp-content/uploads/2020/03/TimMcCready_banner.png
tim.mccready
2018-11-22 15:46:45
2018-11-24 15:48:30
Dynamic Business: Chairperson of the Year (NZ Herald)