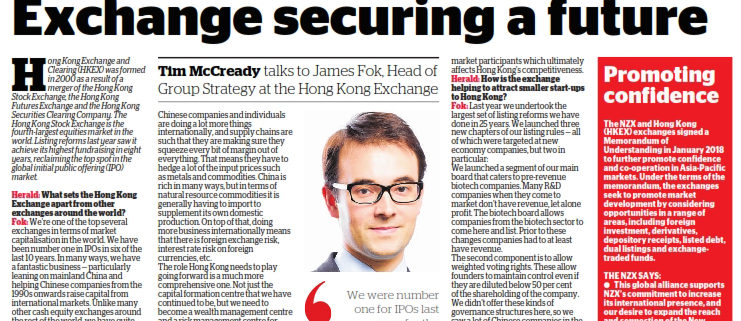 Tim McCready talks to James Fok, Head of Group Strategy at the Hong Kong Exchange
Herald: What sets the Hong Kong Exchange apart from other exchanges around the world?
Fok: We're one of the top several exchanges in terms of market capitalisation in the world. We have been number one in IPOs in six of the last 10 years. In many ways, we have a fantastic business — particularly leaning on mainland China and helping Chinese companies from the 1990s onwards raise capital from international markets. Unlike many other cash equity exchanges around the rest of the world, we have quite a lot of growth in our core business. While in New York you're seeing the number of listed companies fall year-on-year, we're seeing the number of listed companies go up.
Going back almost 10 years now, we recognise that mainland China is also changing in the way in which it operates and is structured. The first H-share company [companies incorporated in mainland China that are traded on the Hong Kong Stock Exchange] to IPO on the exchange was Tsingtao Brewery Group in 1993. At that time there wasn't a lot of capital in China, so if Chinese companies wanted to raise capital they had to come out into international markets, and Hong Kong was a place that enabled them to do that.
Herald: With China opening up over past decades, how has the Exchange's relationship with China changed?
Fok: Today there is a huge surplus of capital in China — notwithstanding the economy slowing down. There is over US$25 trillion sitting in Chinese deposit accounts that has not been deployed into capital markets. We still see a big opportunity with China, not necessarily with Chinese companies coming out to raise capital — although they are continuing to do that — but to try and find a way for Chinese investors to be able to diversify their investment in international markets.
Chinese financial market needs are also becoming a lot more complex. Chinese companies and individuals are doing a lot more things internationally, and supply chains are such that they are making sure they squeeze every bit of margin out of everything. That means they have to hedge a lot of the input prices such as metals and commodities. China is rich in many ways, but in terms of natural resource commodities it is generally having to import to supplement its own domestic production. On top of that, doing more business internationally means that there is foreign exchange risk, interest rate risk on foreign currencies, etc.
The role Hong Kong needs to play going forward is a much more comprehensive one. Not just the capital formation centre that we have continued to be, but we need to become a wealth management centre and a risk management centre for China as well. International investors coming here continue to come here for the Chinese exposure. They now have the option of going to the mainland directly, but many still find challenges in going directly onshore.
Now, as well as bringing Chinese companies here directly to list, the exchange is helping to provide a channel in which investors on both sides of the border can access each other's market without the product or company being directly listed there.
We are providing a gateway for people to go in using their broker in Hong Kong — without having to open new accounts onshore — allowing access to the onshore market in as frictionless way as is possible, where we manage the differences in market structure.
Equity is still a large piece of the business, but more and more we have been shifting towards different asset classes as well — the most obvious was our acquisition of the London Metal Exchange in 2012.
Herald: How are new advances in fintech reshaping how you're operating?
Fok: Stock exchanges are the original fintech businesses. Technology has driven our business for a very long time. But what seems to be happening at the moment in the technology space is that we have a confluence of factors that are forcing a huge acceleration in the pace of change.
That change, in many ways, has been hugely disruptive. You only have to look at retail businesses and what Amazon has done to those to understand that. When you look at stock exchanges and you look at the fundamental business model — providing a centralised place for people to buy and sell securities — generally that model is very efficient. But in every other facet of our business — ranging from clearing and settlement, the ways companies communicate with their investors, through to the day-to-day operational processes — that is now disrupted.
When you look at the ability of robotics and artificial intelligence to replace a lot of fairly menial — and actually relatively sophisticated but process-driven jobs — it's phenomenal. We have had to, like everyone else, look at how we adopt technology into our business to drive efficiency.
Many businesses do this as a way to cut costs. There is an element to which that is true for us, but actually it goes much beyond that. Because everyone investing in our market has to use us, if we are inefficient as a market and as an infrastructure, it imposes a significant cost on all the market participants which ultimately affects Hong Kong's competitiveness.
Herald: How is the exchange helping to attract smaller start-ups to Hong Kong?
Fok:  Last year we undertook the largest set of listing reforms we have done in 25 years. We launched three new chapters of our listing rules — all of which were targeted at new economy companies, but two in particular:
We launched a segment of our main board that caters to pre-revenue biotech companies. Many R&D companies when they come to market don't have revenue, let alone profit. The biotech board allows companies from the biotech sector to come here and list. Prior to these changes companies had to at least have revenue.
The second component is to allow weighted voting rights. These allow founders to maintain control even if they are diluted below 50 per cent of the shareholding of the company. We didn't offer these kinds of governance structures here, so we saw a lot of Chinese companies in the tech space find themselves in the US market.
We were number one for IPOs last year for the amount of money raised, and 32 per cent of that money raised came from companies listing under the new chapters.
Herald: The Hong Kong Exchange signed a Memorandum of Understanding with the NZX early last year. What was the purpose of this for the HKEX?
Fok: The long-term ambition for us is to develop the product offering in Hong Kong more widely. It is largely an equities market still today, and when you look at trading and market capitalisation, something like 80 per cent of turnover is on mainland Chinese companies. While this is precisely what attracts international investors, as we open up to more direct mainland China investors who already have a lot of China product to invest in onshore, we need to diversify our offering.
New Zealand isn't the only country we have signed an MoU with.
Of course, on the stock side, New Zealand is not one of the highest priority markets — most Chinese investors looking to diversify will look to the US market. Instead, the purpose is to bring a more diverse range of products to the exchange. New Zealand has done very well in the agricultural milk future space — something that is potentially of relevance to mainland Chinese consumers, particularly given their consumption.
Promoting confidence
The NZX and Hong Kong (HKEX) exchanges signed a Memorandum of Understanding in January 2018 to further promote confidence and co-operation in Asia-Pacific markets. Under the terms of the memorandum, the exchanges seek to promote market development by considering opportunities in a range of areas, including foreign investment, derivatives, depository receipts, listed debt, dual listings and exchange-traded funds.
The NZX says:
This global alliance supports NZX's commitment to increase its international presence, and our desire to expand the reach and connection of the New Zealand market, because growth in New Zealand's public markets will come from having a wider range of listed products and increased market activity. Global alliances we initiated and are continuing to build with the Hong Kong, Singapore, Shanghai and Nasdaq exchanges support this.
NZX and HKEX have continued to work together since the memorandum was signed in January 2018. In April, NZX Regulation recognised the regulatory regimes and requirements for the Hong Kong, Singapore and Toronto exchanges. This allows companies listed on these exchanges to seek a secondary listing on NZX.
Seeking new ways to retain and attract customers has been a priority for NZX. It is vital to growing New Zealand's public markets. Over the past 12 months, we progressed alliances with global peers to ensure that an NZX listing connects New Zealand issuers with the world.
Our relationships with the Nasdaq, Singapore, Hong Kong and Shanghai exchanges, and the transformation in our service offering to issuers, ensures we are developing a product that is relevant and competitive.
https://www.timmccready.nz/wp-content/uploads/2019/04/TimMcCready_HKEX_China.jpg
1087
741
tim.mccready
https://www.timmccready.nz/wp-content/uploads/2020/03/TimMcCready_banner.png
tim.mccready
2019-04-03 16:11:05
2019-08-20 11:51:36
China Business: 2019 – Exchange securing a future (NZ Herald)