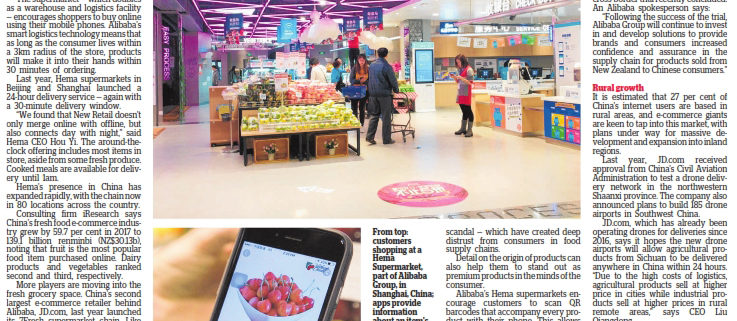 China Business: Taking a fresh approach (NZ Herald)
http://bit.ly/2FRKzVM
The fresh food e-commerce business is growing in China as Tim McCready reports
Chinese e-commerce giant Alibaba Group launched the sale of fresh produce in 2016 with the introduction of its Hema supermarket chain. These stores have been established as a test bed for what Alibaba calls the "New Retail" concept: the blurring between shopping online and offline.
In order to keep products fresh, Hema's fresh grocery items are packaged in small quantities — with just enough food portioned out for a small Chinese family.
The supermarket — which doubles as a warehouse and logistics facility — encourages shoppers to buy online using their mobile phones. Alibaba's smart logistics technology means that as long as the consumer lives within a 3km radius of the store, products will make it into their hands within 30 minutes of ordering.
Last year, Hema supermarkets in Beijing and Shanghai launched a 24-hour delivery service — again with a 30-minute delivery window.
"We found that New Retail doesn't only merge online with offline, but also connects day with night," said Hema CEO Hou Yi. The around-the-clock offering includes most items in store, aside from some fresh produce. Cooked meals are available for delivery until 1am.
Hema's presence in China has expanded rapidly, with the chain now in 80 locations across the country.
Consulting firm iResearch says China's fresh food e-commerce industry grew by 59.7 per cent in 2017 to 139.1 billion renminbi (NZ$30.13b), noting that fruit is the most popular food item purchased online. Dairy products and vegetables ranked second and third, respectively.
More players are moving into the fresh grocery space. China's second-largest e-commerce retailer behind Alibaba, JD.com, last year launched its 7Fresh supermarket chain. Like Hema, 7Fresh focuses on fresh food, and promises 30-minute delivery to locations within 3km of a physical store. During its trial period, JD.com said more than 10,000 customers visited the 7Fresh supermarket each day.
JD.com now plans to open 1000 grocery outlets in the next three to five years.
"Our goal is to expand 7Fresh supermarkets into every first and second-tier city and the surrounding areas of those cities," says Wang Xiaosong, CEO of 7Fresh.
Another fresh produce e-commerce platform, MissFresh, was founded in 2014, and now operates in 20 Chinese cities, specialising in one-hour deliveries of produce.
In September last year, MissFresh completed its Series D fundraise, raising US$450 million (NZ$661 million) from investors that include Goldman Sachs and Tencent Holdings Ltd.
At the time of the raise, founder and CEO Xu Zheng said MissFresh planned to set up 10,000 front-end warehouses in 100 cities around China, which will allow them to provide one-hour deliveries of fresh produce to 100 million families.
The funds from the raise would be used to develop the company's supply chain, cold chain logistics infrastructure and its smart retail technology.
Food safety, traceability and provenance
Along with a focus on fresh food and fast delivery, supermarkets in China are placing an increased importance on demonstrating food safety and provenance to consumers.
This stems from various food safety incidents in China — most notably the 2008 melamine milk scandal — which have created deep distrust from consumers in food supply chains.
Detail on the origin of products can also help them to stand out as premium products in the minds of the consumer.
Alibaba's Hema supermarkets encourage customers to scan QR barcodes that accompany every product with their phone. This allows them to receive further information: including how to prepare it, recipe ideas, and its provenance.
Details of the journey of a fresh food item from farm-to-store can include pictures of the distributor's business licences and food-safety certificates, information on when a particular crop was harvested and the date the item was delivered to the store. For products that need to be kept at a particular temperature — such as meat and fish — the system can provide details on how cold the inside of the delivery truck was during transit.
To further bolster the confidence customers have in its products, Alibaba joined a consortium of four Australian and New Zealand companies last year, to introduce a food traceability system based on blockchain technology.
The consortium — known as the "Food Trust Framework" — includes New Zealand's dairy giant Fonterra and New Zealand Post, along with Australia's Blackmores and Australia Post.
A joint statement said of the initiative: "it will use an immutable central ledger to achieve end-to-end supply-chain traceability and transparency throughout the supply chain to enhance consumer confidence and build a trusted environment for cross-border trade."
The supply chain traceability cross-border trial recently concluded. An Alibaba spokesperson says:
"Following the success of the trial, Alibaba Group will continue to invest in and develop solutions to provide brands and consumers increased confidence and assurance in the supply chain for products sold from New Zealand to Chinese consumers."
Rural growth
It is estimated that 27 per cent of China's internet users are based in rural areas, and e-commerce giants are keen to tap into this market, with plans underway for massive development and expansion into inland regions.
Last year, JD.com received approval from China's Civil Aviation Administration to test a drone delivery network in the northwestern Shaanxi province.  The company also announced plans to build 185 drone airports in Southwest China.
JD.com, which has already been operating drones for deliveries since 2016, says it hopes the new drone airports will allow agricultural products from Sichuan to be delivered anywhere in China within 24 hours. "Due to the high costs of logistics, agricultural products sell at a higher price in cities while industrial products sell at higher prices in rural remote areas," says CEO Liu Qiangdong.
Alibaba has established a "Rural Taobao" initiative, that aims to sell products to regional customers at urban prices, and create efficient supply chains for rural produce.
As part of the project, Alibaba has established a network of 30,000 e-commerce service centres that enable villagers to purchase products online.
General manager of Rural Taobao Bill Wang says: "We want to improve the living conditions of China's rural regions. To do so, we need to provide high-quality goods, personalised services, smart logistic solutions and prices comparable to that of the cities."
These moves from e-commerce giants align with the Chinese Government's National Strategic Plan for Rural Vitalization from 2018 to 2022, which calls for significant progress in rural rejuvenation. The plan has ambitious goals to close the gap between urban and rural areas, eliminate poverty and improve governance in the countryside.
https://www.timmccready.nz/wp-content/uploads/2019/04/TimMcCready_FreshFood_China.jpg
848
737
tim.mccready
https://www.timmccready.nz/wp-content/uploads/2020/03/TimMcCready_banner.png
tim.mccready
2019-04-03 13:13:28
2019-08-20 11:51:23
China Business: Taking a fresh approach (NZ Herald)