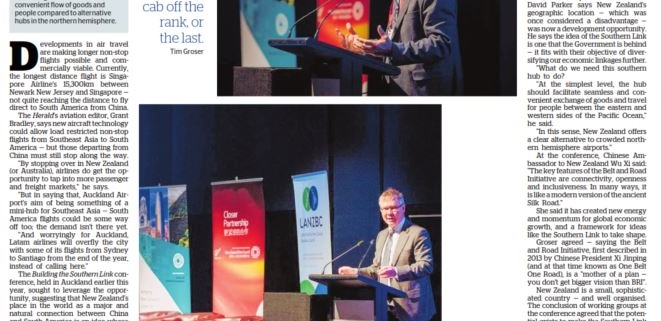 NZ could be a connector of China and Latin America, but it's not without its challenges, writes Tim McCready
Developments in air travel are making longer non-stop flights possible and commercially viable. Currently, the longest distance flight is Singapore Airline's 15,300km between Newark New Jersey and Singapore — not quite reaching the distance to fly direct to South America from China.
The Herald's aviation editor, Grant Bradley, says new aircraft technology could allow load restricted non-stop flights from Southeast Asia to South America — but those departing from China must still stop along the way.
"By stopping over in New Zealand (or Australia), airlines do get the opportunity to tap into more passenger and freight markets," he says.
"But in saying that, Auckland Airport's aim of being something of a mini-hub for Southeast Asia — South America flights could be some way off too; the demand isn't there yet.
"And worryingly for Auckland, Latam airlines will overfly the city with some of its flights from Sydney to Santiago from the end of the year, instead of calling here."
The Building the Southern Link conference, held in Auckland earlier this year, sought to leverage the opportunity, suggesting that New Zealand's place in the world as a major and natural connection between China and South America is an idea whose time has come. It brought together more than 200 international experts and key stakeholders, to discuss the opportunity, and develop recommendations to move forward.
"New Zealand is either first cab off the rank, or the last," former trade minister Tim Groser told attendees.
He says that for a small country, you must have the wherewithal to not wait for good company, but to get ahead of the queue and move swiftly. This is a central lesson if you survey the history of New Zealand's relationship with China in particular. China attributes "five firsts" to New Zealand:
In 1997, New Zealand became the first country to agree to China's accession to the WTO by concluding the bilateral negotiations component of that process.
New Zealand was the first country to recognise China as a market economy in 2004.
New Zealand was the first developed country to commence free trade agreement negotiations with China. In November 2004, New Zealand and China launched free trade agreement negotiations.
In April 2008, New Zealand became the first country to successfully conclude free trade agreement negotiations with China.
In November 2016, New Zealand and China jointly announced the launch of negotiations to upgrade its bilateral free trade agreement, a first for a developed country with China.
Groser says New Zealand has been an outlier in that respect. "Traditionally foreign ministries look for good company — political safety," he says. "The tendency is to join queues, not to form them. If we've had some success, it's because we've taken well calculated risks — because if we don't, we end up at the back of the queue."
Trade and Export Growth Minister David Parker says New Zealand's geographic location — which was once considered a disadvantage — was now a development opportunity. He says the idea of the Southern Link is one that the Government is behind — it fits with their objective of diversifying our economic linkages further.
"What do we need this southern hub to do?
"At the simplest level, the hub should facilitate seamless and convenient exchange of goods and travel for people between the eastern and western sides of the Pacific Ocean," he said.
"In this sense, New Zealand offers a clear alternative to crowded northern hemisphere airports."
At the conference, Chinese Ambassador to New Zealand Wu Xi said: "The key features of the Belt and Road Initiative are connectivity, openness and inclusiveness. In many ways, it is like a modern version of the ancient Silk Road."
She said it has created new energy and momentum for global economic growth, and a framework for ideas like the Southern Link to take shape.
Groser agreed — saying the Belt and Road Initiative, first described in 2013 by Chinese President Xi Jinping (and at that time known as One Belt One Road), is a "mother of a plan — you don't get bigger vision than BRI".
New Zealand is a small, sophisticated country — and well organised. The conclusion of working groups at the conference agreed that the potential exists to make the Southern Link a reality, but there are issues that will need to be addressed.
These include political complications, transit visas, air services, customs and biosecurity regulations, trade facilitation and border policies.
Many of these are a lot more complex than they might appear. Stephen Jacobi, executive director of the New Zealand China Council, told the conference that the Southern Link must be a partnership between government and business.
He says we need to convince government that the changes to public policy and regulation are worth making, "because the prize — in terms of increased trade, travel and tourism — is high".
Groser wrapped up the conference by throwing down a challenge:
"A plan not backed by a vision is a nightmare. But a vision without a plan is hallucination," he said.
"We have a big idea. I think it's on the move — and I think we should seize the time."
https://www.timmccready.nz/wp-content/uploads/2019/08/southernlink_TimMcCready.jpg
786
661
tim.mccready
https://www.timmccready.nz/wp-content/uploads/2020/03/TimMcCready_banner.png
tim.mccready
2019-08-21 08:00:49
2019-08-21 09:50:21
Infrastructure: Can Auckland be a major hub?