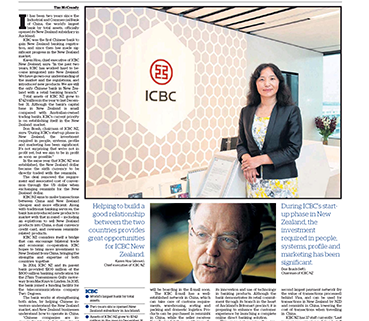 Tim McCready
Chief executive says hiring local talent part of ambitious plans to help develop bilateral trade relationship.
It has been two years since the Industrial and Commercial Bank of China, the world's largest bank by total assets, officially opened its New Zealand subsidiary in Auckland.
ICBC was the first Chinese bank to gain New Zealand banking registration, and since then has made significant progress in the New Zealand market.
Karen Hou, chief executive of ICBC New Zealand, says: "In the past two years, ICBC has worked hard to become integrated into New Zealand. We have grown our understanding of the market and the regulations, and introduced new products. We are still the only Chinese bank in New Zealand with a retail banking branch."
Total assets of ICBC NZ grew to $742 million in the year to last December 31. Although the bank's capital base in New Zealand is small compared with Australian-owned trading banks, ICBC's current priority is on establishing itself in the New Zealand market.
Don Brash, chairman of ICBC NZ, says: "During ICBC's start-up phase in New Zealand, the investment required in people, systems, profile and marketing has been significant. It's not surprising that we're not in profit yet, but we aim to be in profit as soon as possible."
In the same year that ICBC NZ was established, the New Zealand dollar became the sixth currency to be directly traded with the renminbi.
The deal removed the requirement and associated cost of conversion through the US dollar when exchanging renminbi for the New Zealand dollar.
ICBC NZ aims to make transactions between China and New Zealand cheaper and more efficient. Along with traditional banking services, the bank has introduced new products to market with that in mind – including an e-platform to sell New Zealand products into China, a dual currency credit card, and overseas renminbi-related products.
ICBC NZ considers itself a bridge that can encourage bilateral trade and economic co-operation. ICBC hopes to bring more investment to New Zealand from China, bringing the strengths and expertise of both countries together.
In 2014, ICBC NZ and its parent bank provided $100 million of the $800 million banking syndication for the 27km Transmission Gully motorway from MacKays to Linden. In 2015, the bank joined a funding facility for the telecommunications company Two Degrees.
The bank works at strengthening both sides, by helping Chinese investors understand the New Zealand market, and New Zealand businesses understand how to operate in China.
"Chinese companies are increasingly interested in investment opportunities in the New Zealand market. Helping to build a good relationship between the two countries provides great opportunities for ICBC New Zealand. We can help investors understand the market and how to be successful here," Hou says.
ICBC group established its own e-commerce platform, "E-mall", in January 2014. Since then, the number of globally registered customers has increased to over 31 million, turnover has reached more than $200 billion and transaction volumes place it among China's top two e-commerce platforms by the end of last year.
The NZ pavilion of the E-mall was launched in November and allows reputable New Zealand companies to sell directly into the Chinese market through a secure sales channel.
Since the NZ pavilion of the E-mall went live in New Zealand, ICBC NZ has facilitated more than 4000 transactions on the platform.
Leveraging the increasing demand from Chinese consumers for high quality, safe products, the majority of items on the New Zealand pavilion are New Zealand food, personal healthcare products, cosmetic products and snacks. More and more quality New Zealand-made products will be boarding in the E-mall soon.
The ICBC E-mall has a well-established network in China, which can take care of customs requirements, warehousing, sorting and packing and domestic logistics. Products can be purchased in renminbi in China, while the seller receives New Zealand dollars – with immediate and direct NZD/RMB settlement.
This innovation opens New Zealand manufacturers up to a potentially enormous customer demand, especially now that China has overtaken the US to become the world's largest e-commerce market. This is expected to continue with China's strong domestic consumption and rapid urbanisation.
One of ICBC NZ's key retail growth areas is its mortgage business. Over the two years in which the bank has been operating in New Zealand, customer numbers have grown substantially, and the value of home loans has also grown substantially.
ICBC is known internationally for its innovation and use of technology in banking products. Although the bank demonstrates its retail commitment through its branch in the heart of Auckland's Britomart precinct, it is preparing to enhance the customer experience by launching a complete online direct banking solution.
This may not require the customers to visit the bank, instead replicating the traditional banking experience online – right through to opening a bank account. In addition, the online banking system is able to do cross-border remittance all over the world.
"Creativity and innovation are both very important to ICBC," Hou says. "New Zealand is an innovative country. The bank wants to learn more from this market, so that we can adapt and launch products and technology here that will be of value to our customers."
ICBC NZ was the first bank in the Southern Hemisphere to offer the UnionPay credit card. UnionPay is the second largest payment network (by the value of transactions processed) behind Visa, and can be used for transactions in New Zealand by NZD and renminbi in China, lowering the cost of transactions when travelling in China.
ICBC NZ has 37 staff currently. "Last year, more experienced local staff joined us and they are playing very important roles in our business and helping us to understand local regulations and the local market," Hou says.
As ICBC New Zealand moves past the start-up phase, it has ambitious plans for the next two years. To manage growth, the bank will need more experienced staff. Reaffirming ICBC's commitment to New Zealand, Hou aims to recruit new staff locally.
"We are very excited about the next phase of growth for ICBC NZ," Brash says. "Although ICBC NZ has only been here two years, we can already see the opportunities ahead of us are very substantial."
https://www.timmccready.nz/wp-content/uploads/2016/05/2016-03-30-Bank-gaining-mana-as-NZ-China-bridge.png
507
369
tim.mccready
https://www.timmccready.nz/wp-content/uploads/2020/03/TimMcCready_banner.png
tim.mccready
2016-03-30 00:56:05
2018-03-30 11:14:48
Bank gaining mana as NZ-China bridge (NZ Herald)