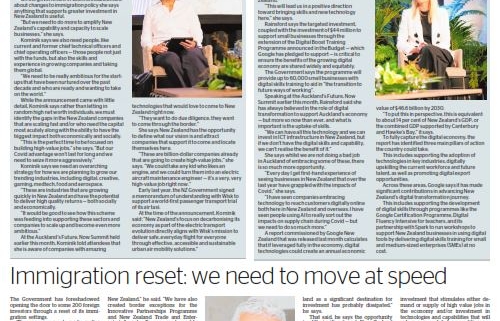 Capital Markets report: Three business leaders on the Government's wealthy investor proposals (NZ Herald)
Anna Kominik
Wisk's Asia-Pacific regional director Anna Kominik leads a multinational team bringing the world's first all-electric, self-flying air taxi to market.
On the government's recent announcement about changes to immigration policy she says anything that supports greater investment in New Zealand is useful.
"But we need to do more to amplify New Zealand's capability and capacity to scale businesses," she says.
Kominik says we also need people, like current and former chief technical officers and chief operating officers — those people not just with the funds, but also the skills and experience in growing companies and taking them global.
"We need to be really ambitious for the start-ups that have been nurtured over the past decade and who are ready and wanting to take on the world."
While the announcement came with little detail, Kominik says rather than letting in random high net worth individuals, we must identify the gaps in the New Zealand companies that are scaling fast and/or who need the capital most acutely along with the ability to have the biggest impact both economically and socially.
"This is the perfect time to be focused on building high-value jobs," she says. "But our Covid advantage won't last for long and we need to seize it more aggressively."
Kominik says we need an overarching strategy for how we are planning to grow our trending industries, including digital, creative, gaming, medtech, food and aerospace.
"These are industries that are growing quickly in New Zealand and have the potential to deliver high quality returns — both socially and economically.
"It would be good to see how this scheme was feeding into supporting these sectors and companies to scale up and become even more ambitious."
At the Auckland's Future, Now Summit held earlier this month, Kominik told attendees that she is aware of companies with amazing technologies that would love to come to New Zealand right now.
"They want to do due diligence, they want to come through the border."
She says New Zealand has the opportunity to define what our vision is and attract companies that support it to come and locate themselves here.
"These are billion-dollar companies already that are going to create high-value jobs," she says. "We could take any kid who likes an engine, and we could turn them into an electric aircraft maintenance engineer — it's a very, very high-value job right now."
Early last year, the NZ Government signed a memorandum of understanding with Wisk to support a world-first passenger transport trial of its air taxi.
At the time of the announcement, Kominik said: "New Zealand's focus on decarbonising its economy as part of the electric transport evolution directly aligns with Wisk's mission to deliver safe, everyday flight for everyone through effective, accessible and sustainable urban air mobility solutions."
Caroline Rainsford
Country Director for Google New Zealand, Caroline Rainsford, is pleased to see the Government's announcement to support targeted, high-quality investment in New Zealand.
"This will lead us in a positive direction toward bringing skills and new technology here," she says.
Rainsford says the targeted investment, coupled with the investment of $44 million to support small businesses through the extension of the Digital Boost Training Programme announced in the Budget — which Google has pledged to support — is critical to ensure the benefits of the growing digital economy are shared widely and equitably.
The Government says the programme will provide up to 60,000 small businesses with digital skills training to aid in "the transition to future ways of working".
Speaking at the Auckland's Future, Now Summit earlier this month, Rainsford said she has always believed in the role of digital transformation to support Auckland's economy — but more so now than ever, and what is important is the uptake of skills.
"We can have all this technology and we can invest in ICT infrastructure in New Zealand, but if we don't have the digital skills and capability, we can't realise the benefit of it."
She says whilst we are not doing a bad job in Auckland of embracing some of these, there is so much more opportunity.
"Every day I get first-hand experience of seeing businesses in New Zealand that over the last year have grappled with the impacts of Covid," she says.
"I have seen companies embracing technology to reach customers digitally online both here in New Zealand and overseas. I have seen people using AI to really sort out the impacts on supply chain during Covid — but we need to do so much more."
A report commissioned by Google New Zealand that was released last month calculates that if leveraged fully in the economy, digital technologies could create an annual economic value of $46.6 billion by 2030.
"To put this in perspective, this is equivalent to about 14 per cent of New Zealand's GDP, or the combined GDP supported by Canterbury and Hawke's Bay," it says.
To fully capture the digital economy, the report has identified three main pillars of action the country could take.
This includes supporting the adoption of technologies in key industries, digitally upskilling the current workforce and future talent, as well as promoting digital export opportunities.
Across these areas, Google says it has made significant contributions in advancing New Zealand's digital transformation journey.
This includes supporting the development of digital skills through programmes like the Google Certification Programme, Digital Fluency Intensive for teachers, and its partnership with Spark to run workshops to support New Zealand businesses in using digital tools by delivering digital skills training for small and medium-sized enterprises (SMEs) at no cost.
Rob Fyfe
The Government has foreshadowed opening the door to some 200 foreign investors through a reset of its immigration settings.
The announcement, made earlier this month by Tourism Minister Stuart Nash, was described by the government as a "once-in-a-generation reset" of the immigration system.
As part of the announcement, Nash — standing in for Immigration Minister Kris Faafoi — said new border exemptions would allow those representing high-value international investment interests to come to New Zealand over the next 12 months to conduct due diligence and transact the sort of deals that will play an important role in supporting New Zealand's economic recovery from Covid-19.
"We want targeted, high-quality investment that establishes frontier firms, brings skills and technology to New Zealand," he said.
"We have also created border exceptions for the Innovative Partnerships Programme and New Zealand Trade and Enterprise's Investor Programme to enable representatives from global companies to come to New Zealand to conduct on-the-ground negotiations with companies that they wish to invest in."
In making the announcement, Nash said the investment through these programmes will create highly-skilled jobs, enable the valuable transfer of knowledge and technology, and increase international connectivity for New Zealand firms as they allow us to position ourselves globally.
Rob Fyfe, who has been working as business liaison for the government, says he has been highlighting this opportunity since July last year, and the announcement took longer to arrive than he had hoped for.
"In the intervening period, some of the comparative advantage that existed in the back half of 2020 that was motivating interest in New Zealand as a significant destination for investment has probably dissipated," he says.
That said, he says the opportunity is still significant and New Zealand continues to be an attractive destination for international investment.
"In principle I am encouraged by the announcement.
"As to whether 200 is enough — I have got no idea — a heck of a lot could be achieved by allowing 200 pre-qualified, validated investors into the country.
"I would hope if we exhaust that quota, because there is so much demand and opportunity, the Government would extend the quota."
There is still little detail so far in the announcement, but Fyfe says it is important we move at speed to get the pipeline flowing.
He says we should be prioritising investment that stimulates either demand or supply of high value jobs in the economy and/or investment in technologies and capabilities that will enhance our global competitiveness and the advancement of our green economy and sustainability ambitions.
Competition, IP, and confidentiality issues mean that officials will need to be the decision-making authority to determine which investment interests are allowed to proceed, but Fyfe hopes they will consult with business leaders and academics to identify areas of focus and opportunities.
But he notes that any international investment needs to be supported by domestic investment in education and skills, and skilled migration to ensure we can provide the workforce to support inbound investment and the relocation of high-value businesses to New Zealand.
https://www.timmccready.nz/wp-content/uploads/2021/05/investors.jpg
557
500
tim.mccready
https://www.timmccready.nz/wp-content/uploads/2020/03/TimMcCready_banner.png
tim.mccready
2021-05-28 13:30:15
2021-05-29 13:34:18
Capital Markets: Three business leaders on the Government's wealthy investor proposals (NZ Herald)