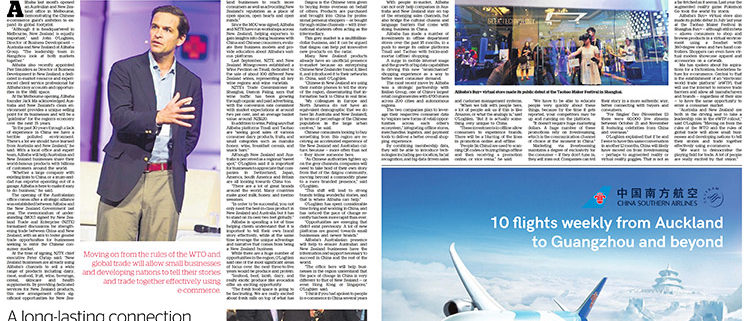 Tim McCready chats with Alibaba's Australia and New Zealand director of business development John O'Loghlen about the new regional office, the work being done with New Zealand businesses, and the future of online shopping.
Moving on from the rules of the WTO and global trade will allow small businesses and developing nations to tell their stories and trade together effectively using e-commerce.
Alibaba last month opened an Australian and New Zealand office in Melbourne, demonstrating the Chinese e-commerce giant's ambition to expand its global footprint.
"Although it is headquartered in Melbourne, New Zealand is equally important," said John O'Loghlen, Director of Business Development – Australia and New Zealand at Alibaba Group. "The leadership team in Hangzhou look at both markets together."
Alibaba also recently appointed Pier Smulders as Director of Business Development in New Zealand, a dedicated in-market resource and experienced client service professional for Alibaba's key accounts and opportunities in the SME space.
At the Melbourne opening, Alibaba founder Jack Ma acknowledged Australia and New Zealand's clean environment provides a unique selling point for its businesses and will be a "goldmine" for the region's economy over the next 15 years.
"In the past 30 years through a lack of experience in China we have a terrible polluted environment. There's a lot we should have learned from Australia and New Zealand," he said. With a local office and expert team, Alibaba will help Australian and New Zealand businesses share their world-famous products with billions of customers around the world.
"Whether a large company with existing links to China, or a mum-and-dad run exporter operating out of a garage, Alibaba is here to make it easy to do business," he said.
The opening of the Australasian office comes after a strategic alliance was established between Alibaba and the New Zealand Government last year. The memorandum of understanding (MOU) signed by New Zealand Trade and Enterprise (NZTE) formalised discussions for strengthening trade between China and New Zealand, with an aim to foster greater trade opportunities for businesses seeking to enter the Chinese consumer market.
At the time of signing, NZTE chief executive Peter Chrisp said: "New Zealand businesses are already using Alibaba's channels to sell a wide range of products including dairy, meat, seafood, fruit, wine, beverage, cereal, skincare and health supplements. By providing dedicated services for New Zealand products, this new arrangement offers significant opportunities for New Zealand businesses to reach more consumers as well as advocating New Zealand's reputation as a place of open spaces, open hearts and open minds."
Since the MOU was signed, Alibaba and NZTE have run workshops across New Zealand, helping exporters to gain insights into doing business with China and Chinese consumers, evaluate their business models and provide education about Alibaba's various platforms.
Last September, NZTE and New Zealand Winegrowers established a Wine Pavilion on Tmall, dedicated to the sale of about 100 different New Zealand wines, representing all key wine regions and wine varietals.
NZTE's Trade Commissioner in Shanghai, Damon Paling, says that wine traffic has been growing through organic and paid advertising, with the conversion rate consistent with market expectations at around two per cent, and an average basket value around NZ$120.
In addition to wine, Paling says that Alibaba platforms Tmall and Taobao are "seeing good sales of various consumer dairy products, fruits, and small categories such as manuka honey, wine, breakfast cereals, and snack bars."
Although New Zealand and Australia is perceived as a regional "sweet spot," O'Loghlen said it is important for businesses to appreciate that companies in Switzerland, Japan, America, South America and Britain are all looking towards China too.
"There are a lot of great brands around the world. Many countries make good milk, honey, and merino sweaters.
"In order to be successful, you not only need the best-in-class product in New Zealand and Australia, but it has to stand on its own two feet globally."
Alibaba is spending a lot of time helping clients understand that it is important to tell their own brand story effectively, while at the same time leverage the unique advantage and narrative that comes from being a New Zealand business.
While there are a huge number of opportunities in the region, O'Loghlen said one of the most significant areas of focus over the next three-to-five years would be produce and protein.
"Seafood, beef, lamb, dairy, and really exotic produce like avocados offer an exciting opportunity.
"The fresh food space is going to be fascinating. We are really excited about fresh milk on top of what has been the first round of extended shelf-life milk into China," he said.
Alibaba's platforms will allow businesses to sell direct to consumers, avoiding the layers of distributors that have been a hurdle for New Zealand companies in the past.
O'Loghlen said it is really important to recognise the power of the daigou community – especially in Australia and New Zealand.
Daigou is the Chinese term given to buying items overseas on behalf of others. Products are purchased and brought into China by professional personal shoppers – or bought through online channels – with international students often acting as the intermediary.
This grey market is a multibillion-dollar business, and it can be argued that daigou can help put innovative new products on the radar.
Many New Zealand products already have an unofficial presence in-market because an enterprising Chinese New Zealander found it, liked it, and introduced it to their networks in China, said O'Loghlen.
"Chinese in New Zealand are using their mobile phones to tell the story of the region, disseminating that information back to China in real time.
"My colleagues in Europe and North America do not have an equivalent demographic that we do here [in Australia and New Zealand], in terms of percentage of the Chinese population in the large urban centres," he said.
Chinese consumers looking to buy something from this region are receiving an accelerated experience of the New Zealand and Australian culture, because – more often than not – they know someone here.
"As Chinese authorities tighten up on the grey channels, companies will need to take hold of their own story from that of the daigou community, moving beyond a commodity phase to a more branded presence," said O'Loghlen.
"This shift will lead to strong brands telling wonderful stories, and that is where Alibaba can help."
O'Loghlen has spent considerable time living and working in China, and has noticed the pace of change recently has been more rapid than ever.
"Opportunities are emerging that didn't exist previously. A lot of new platforms are geared towards small businesses and newer brands."
Alibaba's Australasian presence will help to ensure Australian and New Zealand businesses have the information and support necessary to succeed in China and the rest of the world.
"The office here will help businesses in the region understand that the pace of change in China is very different to that of New Zealand – or even Hong Kong or Singapore," O'Loghlen said.
"I think if you had spoken to people in e-commerce in China several years to premium Kiwi producers
"Now we have a number of bonded warehouse opportunities. For example, Alibaba's Taobao Global taps into a network of daigou, who ship their products through a bonded warehouse, and are as far away from a grey channel as you can imagine."
With people in-market, Alibaba can not only help companies in Australia and New Zealand stay on top of the emerging sales channels, but also bridge the cultural chasms and language barriers that come with doing business in China.
Alibaba has made a number of investments in offline department stores over the past 18 months, in a push to merge its online platforms Tmall and Taobao with bricks-and-mortar (offline) shopping.
A surge in mobile internet usage and the growth of big data capabilities is driving this new "omnichannel" shopping experience as a way to better meet consumer demand.
The most recent move by Alibaba was a strategic partnership with Bailian Group, one of China's largest retail conglomerates with 4700 stores across 200 cities and autonomous regions.
The two companies plan to leverage their respective consumer data to "explore new forms of retail opportunities across each other's ecosystem," integrating offline stores, merchandise, logistics, and payment tools to deliver a better overall shopping experience.
By combining membership data, they will be able to introduce technologies including geo-location, facial recognition, and big-data driven sales and customer management systems.
"When we talk with people here, a lot of people ask us if this is like Amazon, or what the analogy is," said O'Loghlen. "But it is actually something very unique to China.
"These investments in offline allow consumers to experience brands. There will be a blurring of the lines in promotion online and offline.
"People [in China] are used to scanning QR codes or buying things offline and then receiving a promotion online, or vice versa," he said.
"We have to be able to educate people very quickly about these things, because by the time it gets reported, your competitors may be up and running on the platform.
"It doesn't require huge marketing dollars. A huge number of these promotions rely on livestreaming, which is the communication channel of choice at the moment in China."
Marketing via livestreaming maintains a degree of exclusivity for the consumer — if they don't tune in, they will miss out. Companies can tell their story in a more authentic way, better connecting with buyers and consumers.
"For Singles' Day (November 11) there were 60,000 live streams between October 21 and November 11 featuring celebrities from China and overseas."
O'Loghlen explained that if he and I were to have this same conversation in another 12 months, China will likely have moved on from livestreaming – perhaps to augmented reality or virtual reality goggles. That is not as a far-fetched as it seems. Last year the augmented reality game Pokemon Go took the world by storm.
Alibaba's Buy+ virtual store also made its public debut in July last year at the Taobao Maker Festival in Shanghai. Buy+ – although still in beta – allows consumers to shop and browse products in a virtual environment using a headset with 360-degree views and two hand controllers. Shoppers can even have virtual models showcase apparel and accessories on a catwalk.
Ma has spoken about his aspirations for a frictionless, borderless future for e-commerce. Central to that is the establishment of an "electronic world trade platform" (eWTP), that will use the internet to remove trade barriers and allow all manufacturers and brands – regardless of their size – to have the same opportunity to enter a consumer market.
"Australia and New Zealand are both in the driving seat to take a leadership role in the eWTP rollout," said O'Loghlen. "Moving on from the rules of the WTO and the rules of global trade will allow small businesses and developing nations to tell their stories and trade together effectively using e-commerce.
"We want to democratise the playing field for trade. A lot of people are really excited by that vision."
A long lasting connection
Alibaba founder Jack Ma was one of the first foreign business heavyweights to meet with Donald Trump following his election victory.
In contrast to President Trump, Ma is an advocate for global trade, and says the best advertisement for globalisation is the success of one company trading with another, and hiring more people in the process.
By expanding into Australasia, Ma said Alibaba was making it easy for our businesses "to do business anywhere".
At the opening of Alibaba's Australasian office, Ma described the region as one he holds a long connection with.
"Australia will always have a special place in my heart and that's why I'm so pleased to come back to contribute to supporting Australian businesses and create opportunities and jobs in a country that has meant so much for me."
China's richest man electrified a luncheon for former Prime Minister John Key in Beijing last April when he thanked New Zealand "for your benefit to the whole planet".
He revealed then that 20 of Ma's former colleagues at China's e-commerce giant loved New Zealand so much they have retired here.
In the 1980s when Ma was 12 years old, he introduced himself to Australian Ken Morley — who was visiting China on a family holiday — in an effort to improve his English.
Ma befriended Morley's son, who subsequently brought him to Newcastle in Australia on his first international trip.
Ma has said the time spent in Australia when he was young changed his view of China and its relationship with the world. "I am very thankful for Australia and the time I spent there in my youth. The culture, the landscape and most importantly its people had a profound positive impact on my view of the world at that time," he said.
Last month Ma, who according to Forbes is worth US$28.2 billion and is the second wealthiest man in China, gave A$26.4 million to establish a scholarship at the University of Newcastle.
The Ma & Morley Scholarship Programme will help establish networks between the two countries, as well as provide practical training to equip beneficiaries for leadership in the global environment.
https://www.timmccready.nz/wp-content/uploads/2017/03/Alibaba.jpg
547
748
tim.mccready
https://www.timmccready.nz/wp-content/uploads/2020/03/TimMcCready_banner.png
tim.mccready
2017-03-28 17:57:43
2018-03-30 11:08:34
China Business: Alibaba offers sweet deals (NZ Herald)