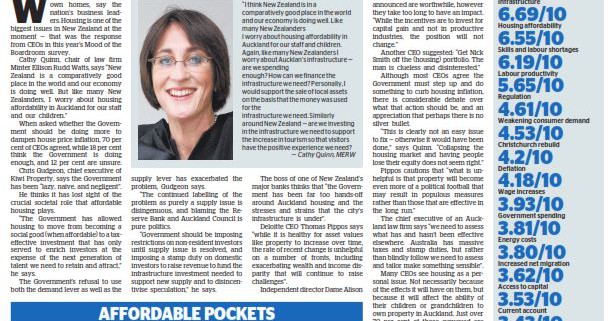 Tim McCready
We fear our children won't own homes, say the nation's business leaders. Housing is one of the biggest issues in New Zealand at the moment — that was the response from CEOs in this year's Mood of the Boardroom survey.
Cathy Quinn, chair of law firm Minter Ellison Rudd Watts, says "New Zealand is a comparatively good place in the world and our economy is doing well. But like many New Zealanders, I worry about housing affordability in Auckland for our staff and our children."
When asked whether the Government should be doing more to dampen house price inflation, 70 per cent of CEOs agreed, while 18 per cent think the Government is doing enough, and 12 per cent are unsure.
Chris Gudgeon, chief executive of Kiwi Property, says the Government has been "lazy, naive, and negligent".
He thinks it has lost sight of the crucial societal role that affordable housing plays.
"The Government has allowed housing to move from becoming a social good (when affordable) to a tax-effective investment that has only served to enrich investors at the expense of the next generation of talent we need to retain and attract," he says.
The Government's refusal to use both the demand lever as well as the supply lever has exacerbated the problem, Gudgeon says.
"The continued labelling of the problem as purely a supply issue is disingenuous, and blaming the Reserve Bank and Auckland Council is pure politics.
"Government should be imposing restrictions on non-resident investors until supply issue is resolved, and imposing a stamp duty on domestic investors to raise revenue to fund the infrastructure investment needed to support new supply and to disincentivise speculation," he says.
The boss of one of New Zealand's major banks thinks that "the Government has been far too hands-off around Auckland housing and the stresses and strains that the city's infrastructure is under".
Deloitte CEO Thomas Pippos says "while it is healthy for asset values like property to increase over time, the rate of recent change is unhelpful on a number of fronts, including exacerbating wealth and income disparity that will continue to raise challenges".
Independent director Dame Alison Paterson says all the initiatives announced are worthwhile, however they take too long to have an impact. "While the incentives are to invest for capital gain and not in productive industries, the position will not change."
Another CEO suggested: "Get Nick Smith off the (housing) portfolio. The man is clueless and disinterested."
Although most CEOs agree the Government must step up and do something to curb housing inflation, there is considerable debate over what that action should be, and an appreciation that perhaps there is no silver bullet.
"This is clearly not an easy issue to fix — otherwise it would have been done," says Quinn. "Collapsing the housing market and having people lose their equity does not seem right."
Pippos cautions that "what is unhelpful is that property will become even more of a political football that may result in populous measures rather than those that are effective in the long run."
The chief executive of an Auckland law firm says "we need to assess what has and hasn't been effective elsewhere. Australia has massive taxes and stamp duties, but rather than blindly follow we need to assess and tailor make something sensible".
Many CEOs see housing as a personal issue. Not necessarily because of the effects it will have on them, but because it will affect the ability of their children or grandchildren to own property in Auckland. Just over 70 per cent of those surveyed are concerned that the New Zealand "dream" of owning property is becoming out of reach for younger generations, and 73 per cent are concerned that younger New Zealanders are being priced out of the Auckland residential property market.
"I think it is really sad to see so many young people — many of whom are well-educated and in good jobs — that don't believe they will ever be able to afford their own home," says one CEO.
Though only a third of those surveyed worry that the Auckland property market will stall, there is concern that any fall in property prices will most severely impact first-home buyers who are more at risk of falling into negative equity.
"I wouldn't want to see my house value deliberately dropped by 20 per cent, but it's not me that would hurt," says one CEO. "It's my niece, for example, who just climbed on to the property ladder with an 'affordable' first home in Avondale."
Though CEOs think that the lack of supply is the most significant contributor to the rapid increase in Auckland house prices, the majority of those surveyed agree increased net migration, low interest rates, domestic speculation, foreign investment, and the absence of a full capital gains tax are all important factors.
Finding solutions
NZ Council for Infrastructure Development CEO Stephen Selwood thinks the Government should assist development by aggregating land and providing development opportunities to the market. "This will deliver subdivisions at scale adjacent to transport services," he says.
The head of a real estate company thinks the supply of homes is the fundamental issue, and is not convinced that any new bans, taxes, or regulation will provide a solution. "The biggest issue is a lack of supply. All other issues add to the situation, but not as significantly as supply.
"We need to encourage developers and investors (both local and foreign) to acquire land and redevelopment projects and get on with building homes and apartments," he says.
"Taxing residential investors and imposing LVR restrictions just discourages them from increasing supply to the rental market — this simply diminishes supply further and pushes rents upwards," says the real estate boss. "Fix the supply issue and the value equation will begin to balance out."
Beca chief executive Greg Lowe, says "empty houses owned by people who don't want to either live in them or provide rental homes, or are being held by short-term speculators (if the reports are correct), creates an unhelpful distortion of demand".
Although house price inflation is a supply issue, Mazda NZ's Andrew Clearwater says the real issue is a lack of skilled tradespeople. "There needs to be a curb on foreign investment where it is at the expense of first time buyers."
Lowe agrees, believing more skilled labour is needed in New Zealand — skilled migration will help meet this need, and also add to growth in domestic demand."
The boss of an agricultural company says until supply catches up with demand, the Government needs to implement fairly drastic action in terms of immigration. "It needs to be Government-led, as immigration is a national choice, but Auckland is wearing most of the consequences."
Other CEOs agree New Zealand needs much lower and far more targeted immigration — "we need a smaller number of highly skilled migrants."
Auckland Chamber of Commerce chief executive Michael Barnett says: "We need to address the foreign buyer advantage."
The chairman of an investment management firm says there should be no sales of existing homes to foreigners, and an energy company chief executive says the Government must contemplate new building rules for overseas buyers.
"I support a Government housing programme, but only for permanent residents who take up occupation and do not use the property for investment purposes," says a real estate boss.
Are taxes the answer?
The Government has notably avoided an effective capital gains tax, instead implementing the two-year "bright line" test. Whether capital gains and other taxes should be implemented remains a contentious issue, with CEOs unsure whether it will make a difference.
The boss of a real estate company says "if we look overseas to countries that have capital gains tax, house prices have continued to increase".
On the other hand, a manufacturing chief executive thinks "a capital gains tax is needed now on property other than the family home. Shifting speculative property investment into investment in productive capital markets would be a better economic outcome."
Don Brash, chairman of ICBC (NZ), says if metropolitan urban limits were scrapped, and infrastructure on the fringe of major cities appropriately funded, local authorities wouldn't have to do much else. "Bill English understands this, and so does Phil Twyford".
Yet most chief executives believe the solution to the housing crisis shouldn't be the sole responsibility of the Government, and that local authorities need to step up and take action. Just over 80 per cent of those surveyed think local authorities should establish satellite towns or cities to service major metropolitan areas, and 57 per cent think local authorities should apply a substantial differential rate to "banked land"' to incentivise owners to make it available for housing.
Port of Tauranga CEO Mark Cairns says "unoccupied land tax seems to be a no-brainer".
Lowe says that there is plenty of land already in Auckland, but housing density is too low for the current and expected population.
"We waste the land we have on inefficient and unnecessary section sizes. Urban intensification, particularly around transport and retail hubs, has been a common solution overseas and provides for more efficient use of land that still allows a good urban lifestyle," he says.
The head of a government agency agrees: "We must embrace intensification, and tackle the Nimbys in the leafy suburbs of Auckland."
Another CEO suggests: "Build along the Auckland rail corridor. This will allow at least part of the growth to not impact on the roading network if rail continues to improve."
Yet most CEOs agree that any intensification should not be at the expense of Auckland's green space.
"I agree with selling off golf courses, but would not like to see all green areas gone," says a real estate chief executive.
"We must not compromise the desired quality of life that Aucklanders are after, including parks and golf courses."
CEO solutions:
81 per cent want to see satellite cities/towns established to service major metropolitan areas
39 per cent find it more difficult to attract staff to relocate to Auckland
70 per cent believe Govt should do more to dampen house price inflation in NZ
70 per cent are concerned the NZ dream of owning your own house is becoming out of reach for younger generations
62 per cent are not concerned the Auckland housing market will stall
https://www.timmccready.nz/wp-content/uploads/2016/09/Housing.jpg
643
612
tim.mccready
https://www.timmccready.nz/wp-content/uploads/2020/03/TimMcCready_banner.png
tim.mccready
2016-09-27 04:19:44
2018-03-30 11:12:58
Mood of the Boardroom: CEOs fear children won't own homes (NZ Herald)