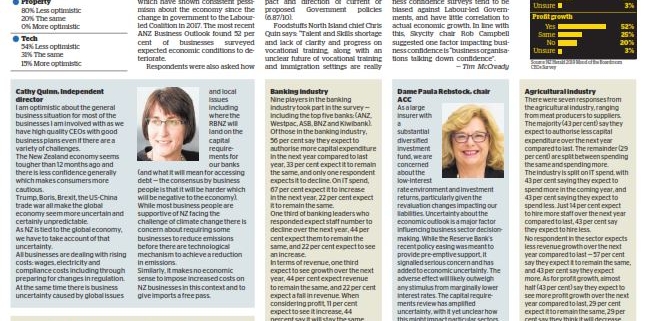 Business leaders are less optimistic than they were a year ago. A total of 62 per cent of business leaders responding to the Mood of the Boardroom survey say they are less optimistic about the general business situation in their industry.
Just 15 per cent feel more optimistic, 23 per cent say they feel the same level of optimism as last year.
The figures were worse when respondents were asked their perspective on the New Zealand economy.
A full 83 per cent say they are less optimistic than they were one year ago. Only 4 per cent say they are more optimistic, 13 per cent say they feel the same as last year.
This poor outlook aligns with other surveys of business confidence, which have shown consistent pessimism about the economy since the change in government to the Labour-led Coalition in 2017. The most recent ANZ Business Outlook found 52 per cent of businesses surveyed expected economic conditions to deteriorate.
Respondents were also asked how concerned they are about the impact of various domestic factors for business confidence, rated on a scale where 1 = no concern and 10 = extremely concerned.
The top domestic factors influencing business confidence in the NZ economy are congestion in Auckland (7.60/10) and infrastructure constraints (7.39/10).
The announcement last week that the Auckland light rail project will be delayed until at least 2021 exemplifies the lack of action that CEOs expressed frustration on. The infrastructure issue is considered in more detail on D21.
Other major domestic factors impacting business confidence according to CEOs include the availability of skills and labour (6.99/10) and general uncertainty around the impact and direction of current or proposed Government policies (6.87/10).
Foodstuffs North Island chief Chris Quin says: "Talent and Skills shortage and lack of clarity and progress on vocational training, along with an unclear future of vocational training and immigration settings are really harming the possibility of a successful transition to the future of work for NZ. Aligned Government spending that is much more effective in growing productivity is critical."
Despite the pessimism from business, the International Monetary Fund released its annual review of NZ's economy in the last week.
It suggests New Zealand's economic growth is "still solid". It says despite the loss of momentum in economic activity and a cooling in housing markets, output has remained close to potential. It also praised the falling unemployment rate and the government's Wellbeing Budget — saying it struck the right balance between fiscal prudence and tackling priorities like mental health, child poverty and Māori and Pasifika aspirations.
Some economists say that business confidence surveys tend to be biased against Labour-led Governments, and have little correlation to actual economic growth. In line with this, Skycity chair Rob Campbell suggested one factor impacting business confidence is "business organisations talking down confidence".
https://www.timmccready.nz/wp-content/uploads/2019/09/MOTB2019-confidence.jpg
999
650
tim.mccready
https://www.timmccready.nz/wp-content/uploads/2020/03/TimMcCready_banner.png
tim.mccready
2019-09-24 21:09:21
2019-09-24 21:15:01
Mood of the Boardroom: NZ CEOs becoming more pessimistic about economy (NZ Herald)