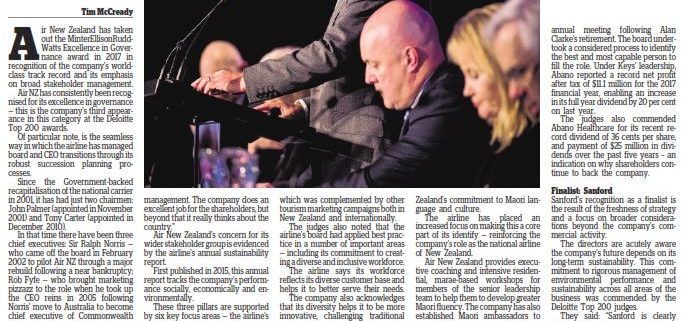 Air New Zealand has taken out the MinterEllisonRuddWatts Excellence in Governance award in 2017 in recognition of the company's world-class track record and its emphasis on broad stakeholder management.
Air NZ has consistently been recognised for its excellence in governance — this is the company's third appearance in this category at the Deloitte Top 200 awards.
Of particular note, is the seamless way in which the airline has managed board and CEO transitions through its robust succession planning processes.
Since the Government-backed recapitalisation of the national carrier in 2001, it has had just two chairmen: John Palmer (appointed in November 2001) and Tony Carter (appointed in December 2010).
In that time there have been three chief executives: Sir Ralph Norris — who came off the board in February 2002 to pilot Air NZ through a major rebuild following a near bankruptcy; Rob Fyfe — who brought marketing pizzazz to the role when he took up the CEO reins in 2005 following Norris' move to Australia to become chief executive of Commonwealth Bank; and, Christopher Luxon, who became chief executive in early 2013 introducing a global management style to the airline.
Both Fyfe and Luxon were internal appointments who were thoroughly blooded by their predecessors before stepping up to the top job.
In September, former Prime Minister and Tourism Minister Sir John Key joined Carter and fellow members Jan Dawson (deputy chairman), Rob Jager, Linda Jenkinson, Jonathan Mason and Dame Therese Walsh on the board.
Air New Zealand was recently rated New Zealand's most reputable company for the second year in a row.
The company has continued to sport outstanding financial results since it was named Company of the Year in the 2014 Deloitte Top 200 awards.
Both Carter (2014) and Luxon (2015) have taken out the top honours, for chairman and chief executive respectively, which is another testament to the company's overall governance record.
It was recently nominated "Airline of the Year" by leading international aviation website AirlineRatings.com for the fifth consecutive year.
The Deloitte Top 200 judges said New Zealanders' continued faith in Air NZ was a stellar reflection of the airline's successful governance and the positive impact it has in the country.
They added: "Air New Zealand does the best job of broad stakeholder management. The company does an excellent job for the shareholders, but beyond that it really thinks about the country."
Air New Zealand's concern for its wider stakeholder group is evidenced by the airline's annual sustainability report.
First published in 2015, this annual report tracks the company's performance socially, economically and environmentally.
These three pillars are supported by six key focus areas — the airline's people, the communities it operates within, carbon, nature and science, tourism, and trade and enterprise.
The judges remarked that the sustainability reports were a fantastic resource and said Air New Zealand is considered among the best in the country in this area.
The airline has formed a sustainability advisory panel, which includes British environmentalist Sir Jonathon Porritt, New Zealand entrepreneur and environmentalist Sir Rob Fenwick and US biofuels expert Suzanne Hunt.
The airline industry contributes around 2 to 4 per cent to global greenhouse gas emissions.
As part of the sustainability framework, Air NZ is committed to working closely with key regional stakeholders, collaborating and helping them to develop attractive tourism propositions.
An example of Air New Zealand's work is in Northland where, with local tourism operators, the council and other stakeholders it created a "Summer of Safety" inflight safety video, which was complemented by other tourism marketing campaigns both in New Zealand and internationally.
The judges also noted that the airline's board had applied best practice in a number of important areas — including its commitment to creating a diverse and inclusive workforce.
The airline says its workforce reflects its diverse customer base and helps it to better serve their needs.
The company also acknowledges that its diversity helps it to be more innovative, challenging traditional ways of thinking, and introduces fresh perspectives.
Air New Zealand has made strong progress in delivering on its diversity and inclusion objectives, focusing strongly on gender representation and growing the cultural capability and fluency of leaders.
The airline recently achieved 39 per cent female membership on its senior leadership team, and has committed to reaching 40 per cent by 2020.
It has established a women's network around the country to coach and mentor women throughout the business.
Air New Zealand has also implemented other employee networks, including Young Professionals, Maori and Pacific Islands, Pride (LGBTQI) and an Asian employee network.
These have helped to promote a sense of community and belonging across different employee groups, and increase the visibility and awareness of its diverse workforce.
The judges commended Air New Zealand's commitment to Maori language and culture.
The airline has placed an increased focus on making this a core part of its identify — reinforcing the company's role as the national airline of New Zealand.
Air New Zealand provides executive coaching and intensive residential, marae-based workshops for members of the senior leadership team to help them to develop greater Maori fluency. The company has also established Maori ambassadors to promote Maori culture and language among all its employees.
Finalist: Abano Healthcare
Abano Healthcare received high praise from the judges for its successful business model and steadfast focus on growing shareholder returns while fending off disruptive hostile takeover offers.
The Abano board, led by chairman Trevor Janes is focused on growing its trans-Tasman dental group — which is benefiting from economies of scale and increasing market share.
The Top 200 judges were impressed with how the board and shareholders have backed the company, particularly in light of the hostile partial takeover bid from Healthcare Partners.
Janes is joined on the board by Pip Dunphy (deputy chair), Danny Chan, Murray Boyte, Dr Ginni Mansberg and Ted van Arkel.
"The board's resistance to attempted takeover offers has resulted in shareholders continuing to receive growing returns," the judges said.
In particular, they were impressed that the company has not been distracted while dealing with attempted takeovers, instead remaining focused on the business and implementing strategy.
They noted the successful transition of Richard Keys into the role of chief executive. Keys was previously the company's chief operating officer and chief financial officer, and took up the role at the company's 2015 annual meeting following Alan Clarke's retirement.
The board undertook a considered process to identify the best and most capable person to fill the role. Under Keys' leadership, Abano reported a record net profit after tax of $11.1 million for the 2017 financial year, enabling an increase in its full year dividend by 20 per cent on last year.
The judges also commended Abano Healthcare for its recent record dividend of 36 cents per share, and payment of $25 million in dividends over the past five years – an indication on why shareholders continue to back the company.
Finalist: Sanford
Sanford's recognition as a finalist is the result of the freshness of strategy and a focus on broader considerations beyond the company's commercial activity.
The directors are acutely aware the company's future depends on its long-term sustainability. This commitment to rigorous management of environmental performance and sustainability across all areas of the business was commended by the Deloitte Top 200 judges.
They said: "Sanford is clearly transitioning strategy around their footprint and sustainability throughout the business to build a long-term business."
The Sanford board chaired by independent director Paul Norling includes Liz Coutts, Bruce Goodfellow, Peter Goodfellow, Peter Kean and Rob McLeod.
Sanford has placed strong emphasis on offering meaningful opportunities for continual learning and development, setting a goal to maximise the prospects of all its people.
The company has acknowledged this is not an area that has previously been managed as effectively as it could, and has put in place management systems to make it a priority.
Sanford has made a commitment to improving the wellbeing of its employees, adopting the WorkWell programme developed by Toi Te Ora Public Health to support the development of a healthy working team.
Sanford's annual report was referred to as "absolutely outstanding" by the judges. It includes a touching story from an employee, who credits turning her family's health and lifestyle around following a visit to Sanford by a diabetes specialist.
The judges also commend Sanford's very strong integrated reporting. The company has been recognised by the market for this — providing a balanced picture of their economic, environmental, and social performance; facilitating comparability, benchmarking and assessing performance; and addressing issues of concern to stakeholders
https://www.timmccready.nz/wp-content/uploads/2017/11/AirNZGovernance.jpg
1076
683
tim.mccready
https://www.timmccready.nz/wp-content/uploads/2020/03/TimMcCready_banner.png
tim.mccready
2017-11-24 13:14:30
2018-03-30 10:58:02
Dynamic Business: Air New Zealand, Excellence in Governance (NZ Herald)