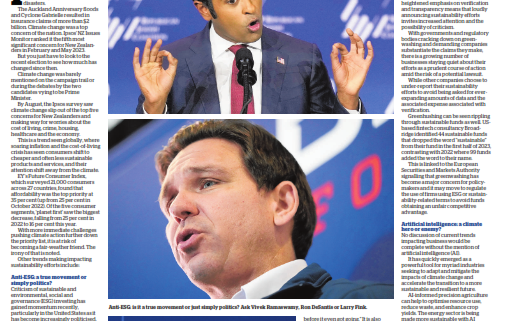 Sustainability: Is it at risk of becoming a fair-weather friend?
It was only 10 months ago that New Zealand suffered two of its most costly weather-related disasters.
The Auckland Anniversary floods and Cyclone Gabrielle resulted in insurance claims of more than $2 billion. Climate change was a top concern of the nation. Ipsos' New Zealand Issues Monitor ranked it the fifth-most-significant concern for New Zealanders in February and May 2023.
But you just have to look to the recent election to see how much has changed since then.
Climate change was barely mentioned on the campaign trail or during the debates by the two candidates vying to be Prime Minister.
By August, the Ipsos survey saw climate change slip out of the top five concerns for New Zealanders and making way for worries about the cost of living, crime, housing, healthcare and the economy.
This is a trend seen globally, where soaring inflation and the cost-of-living crisis has seen consumers shift to cheaper and often less-sustainable products and services, and their attention shift away from the climate.
EY's Future Consumer Index, which surveyed 21,000 consumers across 27 countries, found that affordability was the top priority at 35 per cent (up from 25 per cent in October 2022). Of the five consumer segments, "planet first" saw the biggest decrease, falling from 25 per cent in 2022 to 16 per cent this year.
With more immediate challenges pushing climate action further down the priority list, it is at risk of becoming a fair-weather friend. The irony of that is noted.
Other trends making impacting sustainability efforts include:
Anti-ESG: a true movement or simply politics?
Criticism of sustainable and environmental, social and governance (ESG) investing has gained momentum recently, particularly in the United States as it has become increasingly politicised.
Simultaneously, there has been a notable increase in the amount of "anti-ESG" funds, defined as those that invest in assets that were traditionally excluded by socially responsible funds and often aligned with politically conservative values.
Flows into anti-ESG funds peaked in the third quarter of 2022, according to American financial services firm MorningStar. More than 80 per cent of the US$377 million ($630m) raised that quarter flowed into the first fund of Strive Asset Management – an investment firm founded by Republican presidential candidate and pharmaceutical entrepreneur Vivek Ramaswamy to counter the "woke" investment practices of more established ESG-focused firms like BlackRock.
In his campaign launch video, Ramaswamy criticised "the woke left" and its focus on diversity, denouncing policies from left-leaning politicians used to address the Covid-19 pandemic, gender issues and climate change.
Another Republican presidential candidate, Florida Governor Ron DeSantis, also took aim against ESG investing this year, signing a law that prohibits the state's public or state-controlled funds to invest based on ESG factors. The anti-ESG legislation is set to be a model for other Republican-led states, prioritising financial returns for state funds and state pensions and preventing the issuance of green bonds.
Even BlackRock CEO Larry Fink, a longtime proponent of investing with ESG standards in mind, said in June that while he hasn't changed his position on ESG, he has stopped using the acronym following its weaponisation by the far left and the far right of politics.
More recent data from MorningStar reveals that anti-ESG funds have fallen dramatically from last year's peak. The firm suggested in its headline that "anti-ESG might be over before it even got going". It is also worth recognising that the surge of investment into anti-ESG remains miniscule compared to the vast pool of ESG assets.
Bloomberg Intelligence estimates these will reach US$50 trillion ($83.5t) in 2025.
Without a doubt, the question over whether anti-ESG is a genuine shift in investment philosophies or merely a reflection of political discourse will linger. The US presidential election is set down for November 5 next year.
Greenhushing: is silence the new strategy?
Most of us are familiar with greenwashing, where companies and brands exaggerate or even fabricate their commitment to sustainability and eco-friendly practices without substantiating their claims.
It has become a growing concern as consumers and investors increasingly seek genuinely environmentally responsible options.
In response, it has given rise to a contrasting phenomenon: greenhushing. In this case, businesses make a deliberate choice to downplay or even hide their sustainability initiatives and credentials.
One reason for this is the ongoing political hostility over climate change. Advocates for stronger environmental action are pushing for even further efforts, and those with opposing views are boycotting firms for even acknowledging climate change should be factored into business decisions.
Meanwhile, some firms are greenhushing as a protective measure against scrutiny. The heightened emphasis on verification and transparency means that loudly announcing sustainability efforts invites increased attention and the possibility of criticism.
With governments and regulatory bodies cracking down on greenwashing and demanding companies substantiate the claims they make, there is a growing number of businesses staying quiet about their efforts as a prudent course of action amid the risk of a potential lawsuit.
While other companies choose to under-report their sustainability efforts to avoid being asked for ever-expanding amounts of data and the associated expense associated with verification.
Greenhushing can be seen rippling through sustainable funds as well. US-based fintech consultancy Broadridge identified 44 sustainable funds that dropped the word "sustainable" from their fund in the first half of 2023, contrasting with 2022, when 99 funds added the word to their name.
This is linked to the European Securities and Markets Authority signalling that greenwashing has become a major concern for policymakers and it may move to regulate the use of firms using ESG or sustainability-related terms to avoid funds obtaining an unfair competitive advantage.
Artificial intelligence: a climate hero or enemy?
No discussion of current trends impacting business would be complete without the mention of artificial intelligence (AI).
It has quickly emerged as a powerful tool for myriad industries seeking to adapt and mitigate the impacts of climate change and accelerate the transition to a more sustainable and resilient future.
AI-informed precision agriculture can help to optimise resource use, reduce waste, and enhance crop yields. The energy sector is being made more sustainable with AI forecasting for renewable energy sources, grid optimisation and demand-side management. AI-powered logistics and traffic management can help reduce transport emissions and improve fuel efficiency.
In the construction and real estate industry, AI can track the use of a building and use historical patterns to adjust lighting and air conditioning. It can help to identify when it makes economic and climate sense to make upgrades to buildings.
However, there is an often-overlooked counterpoint: these technologies also contribute significantly to greenhouse gas emissions. Data centres rival the aviation industry in their carbon footprint and consume significant amounts of water.
As technological developments progress, the demand for energy to continue to train and operate these systems is only set to increase. As AI becomes more deeply ingrained in the world around us, finding sustainable energy solutions to power it will be an increasing challenge. But never fear: AI will undoubtedly help us solve it.
https://www.timmccready.nz/wp-content/uploads/2023/11/Sustainability-Tim-McCready.png
733
508
tim.mccready
https://www.timmccready.nz/wp-content/uploads/2020/03/TimMcCready_banner.png
tim.mccready
2023-11-09 15:11:12
2023-11-11 15:12:25
Sustainability: Is it at risk of becoming a fair-weather friend? (NZ Herald)