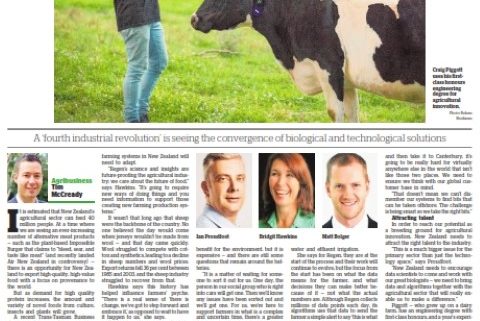 A 'fourth industrial revolution' is seeing the convergence of biological and technological solutions.
It is estimated that New Zealand's agricultural sector can feed 40 million people. At a time where we are seeing an ever-increasing number of alternative meat products — such as the plant-based Impossible Burger that claims to "bleed, sear, and taste like meat" (and recently landed Air New Zealand in controversy) — there is an opportunity for New Zealand to export high-quality, high-value food with a focus on provenance to the world.
But as demand for high quality protein increases, the amount and variety of novel foods from culture, insects and plants will grow.
A recent Trans-Tasman Business Circle panel discussed the opportunities and implications emanating from the rapid transformation within the sector. The panel included KPMG's Global Head of Agribusiness Ian Proudfoot, Fonterra's Farmer Services Director Matt Bolger, and agribusiness start-up chief executives: Regen's Bridgit Hawkins and Halter's Craig Piggott.
Future of food
"We assume that people will eat like us in 20 years' time," says Proudfoot. "I can see a world where the only thing we can be certain about is that we will all need sustenance. It is not hard to imagine that sustenance may look incredibly different in terms of how we receive it during the week to how we receive it at the weekend."
However, he doesn't believe New Zealand should be setting out to be a commodity supplier to the likes of Impossible Foods.
"Everything we do and how we use our land has got to be focused on us being premium — the deli to the world — the place where people turn to when they want great food.
"There are plenty of people in the world who can afford to pay us for our 40 million people's worth of food."
In order to provide premium agricultural products to global consumers, farming systems in New Zealand will need to adapt.
"Regen's science and insights are future-proofing the agricultural industry; we care about the future of food," says Hawkins. "It's going to require new ways of doing things and you need information to support those creating new farming production systems."
It wasn't that long ago that sheep were the backbone of the country. No one believed the day would come when jerseys wouldn't be made from wool — and that day came quickly.
Wool struggled to compete with cotton and synthetics, leading to a decline in sheep numbers and wool prices. Export returns fell 36 per cent between 1985 and 2003, and the sheep industry struggled to recover from that.
Hawkins says this history has helped influence farmers' psyche. "There is a real sense of 'there is change, we've got to step forward and embrace it,' as opposed to wait to have it happen to us," she says.
Technology to boost production
This movement towards new farming systems and demand for new technologies and solutions provides New Zealand with an opportunity to use our deep agricultural knowledge to export more than just our food.
Proudfoot says this "fourth industrial revolution" is seeing the combination of biological and technological solutions for the first time — unlocking the biggest change ever in how we produce food.
It is this revolution that is seeing record levels of investment in the sector — total investment in 2017 reached US$1.5 billion.
Despite increased development in the sector, a major challenge is making those innovations attractive enough for farmers to adopt.
One of the major hurdles in implementing new technologies is that they can be capital intensive. Despite the solutions they provide — and the impact they may have on productivity, financial returns and the environment — the time to adopt them can be notoriously slow.
But this isn't unique to agriculture. Hawkins uses electric cars to explain this hurdle in adoption: "How many of us have an electric car? Now that's a technology we all know has some benefit for the environment, but it is expensive — and there are still some questions that remain around the batteries.
"It is a matter of waiting for someone to sort it out for us. One day, the person in our social group who is right into cars will get one. Then we'll know any issues have been sorted out and we'll get one. For us, we're here to support farmers in what is a complex and uncertain time, there's a greater focus on environmental sustainability now than at any other time in New Zealand's history."
For agriculture, ease of use is a further — and considerable — barrier. In today's age of big data, it is easy to be consumed by noise. The convergence of multiple different technologies and the demands they put on farmers can lead to paralysis. Piggott says that in order to make technology adoption attractive to farmers, it must provide value in a very tangible way.
"We now have the technologies to make a dashboard that contains granular details on every aspect of the farm … but what does a farmer do with that information?," he asks.
His start-up Halter — backed by a series of Silicon Valley VC's, including Peter Thiel's Founders Fund — uses cow collars that allow farmers to guide their herds around the farm, receive alerts when cows are showing signs of poor health or distress, and set virtual fences to keep cows from entering rivers and drains.
Hawkins' Regen equips farmers with leading-edge technology to support their critical role in New Zealand's economy. Their technology uses on-farm sensors and other data to provide farmers with daily recommendations around nitrogen application as well as water and effluent irrigation.
She says for Regen, they are at the start of the process and their work will continue to evolve, but the focus from the start has been on what the data means for the farmer, and what decisions they can make better because of it — not what the actual numbers are.
Although Regen collects millions of data points each day, its algorithms use that data to send the farmer a simple alert to say 'this is what you should do today'.
Innovate for the world, not for Waikato
A recent report by Callaghan Innovation claims New Zealand is seen as one of four locations to watch for agritech solutions, alongside Silicon Valley, Boston, and Amsterdam.
Technologies including the Internet of Things, machine learning, robotics, and drones will help farmers predict pest resurgences, test soil samples, and improve efficiencies in livestock management — reducing and optimising the use of pesticides, fertilisers, animal feed and medication.
The government agency says New Zealand has a unique opportunity to capitalise on its reputation as one of the world's four key agritech locations.
However, a major challenge for New Zealand agricultural innovation is that most of the world doesn't farm like we do. Bolger says it is easy to get caught up in the farming systems used in our own backyard, innovating with them in mind — at the expense of capturing the global market.
"If we only seek to serve New Zealand customers, then we innovate for a system that is fairly unique and our potential is limited," he says.
"If we spend 10 years developing something that works in the Waikato and then take it to Canterbury, it's going to be really hard for virtually anywhere else in the world that isn't like those two places. We need to ensure we think with our global customer base in mind.
"That doesn't mean we can't dismember our systems to find bits that can be taken offshore. The challenge is being smart so we take the right bits."
Attracting talent
In order to reach our potential as a breeding ground for agricultural innovation, New Zealand needs to attract the right talent to the industry.
"This is a much bigger issue for the primary sector than just the technology space," says Proudfoot.
"New Zealand needs to encourage data scientists to come and work with our great biologists — we need to bring data and algorithms together with the agricultural sector that will really enable us to make a difference."
Piggott — who grew up on a dairy farm, has an engineering degree with first-class honours, and a year's experience working at Rocket Lab — agrees: "There's definitely an assumption that if you're a world leading data scientist or an analytics engineer, you're straight to Amazon, Google or Facebook. Going to work in a dairy shed is not necessarily top of the list."
But Bolger says New Zealand's history of agriculture gives us an advantage over other countries. We already associate science with the primary sector, which allows us to more easily attract top people into great careers in the industry.
"A lot of countries have moved away from agriculture," he says.
"We have a large and successful agriculture sector that spans everything from the consumer back to the farm in lots of different forms and food products. It's a sector where you can have a real impact: that's exciting for millennials and centennials."
Among the uncertainty of what the evolution of the sector will look like, one certainty is that the world will continue to need food.
If New Zealand can be a provider of premium food — along with innovative technologies to produce more of it — the security in that demand should provide us with a comfortable economic platform into the future.
https://www.timmccready.nz/wp-content/uploads/2018/07/2018-07-AgribusinessInnovation-Tim-McCready.jpg
755
480
tim.mccready
https://www.timmccready.nz/wp-content/uploads/2020/03/TimMcCready_banner.png
tim.mccready
2018-07-19 10:43:17
2018-07-19 10:41:32
Agribusiness: Innovation to feed the world (NZ Herald)