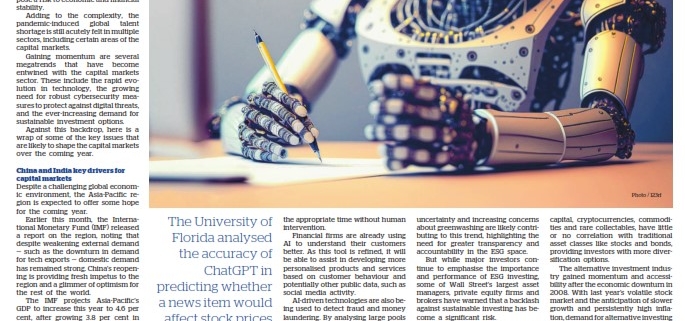 It's clear that the capital markets will continue to face significant headwinds, with many of the same pressures and external forces that have shaped the sector in recent years still in play.
Persistently high inflation remains a top concern. While it remains stubbornly elevated, there are encouraging signs that it may have peaked after a considerable effort from central banks to rein in spending.
Much of the supply chain disruption caused by Russia's invasion of Ukraine has stabilised, but persistent geopolitical tensions and fragmentation, particularly between China and the United States, continue to pose a risk to economic and financial stability.
Adding to the complexity, the pandemic-induced global talent shortage is still acutely felt in multiple sectors, including certain areas of the capital markets.
Gaining momentum are several megatrends that have become entwined with the capital markets sector. These include the rapid technological evolution, the growing need for robust cybersecurity measures to protect against digital threats, and the ever-increasing demand for sustainable investment options.
Against this backdrop, here is a wrap of some of the key issues that are likely to shape the capital markets over the coming year.
Key drivers for capital markets
Despite a challenging global economic environment, the Asia-Pacific region is expected to offer some hope for the coming year.
Earlier this month, the International Monetary Fund (IMF) released a report on the region, noting that despite weakening external demand — such as the downturn in demand for tech exports — domestic demand has remained strong. China's reopening is providing fresh impetus to the region and a glimmer of optimism for the rest of the world.
The IMF projects Asia-Pacific's GDP to increase this year to 4.6 per cent, after growing 3.8 per cent in 2022 and contributing around 70 per cent of global growth. This will be driven primarily by the recovery in China as a result of its reopening and surging consumption, along with resilient growth in India.
It said the near-term economic impact of China's recovery "will likely vary across countries, with those more heavily reliant on tourism likely reaping the most benefit," and expects the rise in China's imports to be most strongly reflected in services.
But despite its optimism for the region, the IMF downgraded its projections for Japan, Australia, New Zealand, Singapore and South Korea.
"Stronger external demand from China will provide some respite to advanced economies in the region, but is expected to be largely outweighed by the drag from other domestic and external factors," it said.
Mind v machine in investing
A few months ago, ChatGPT was launched publicly and has quickly disrupted diverse sectors.
Analysts at Goldman Sachs believe artificial intelligence (AI) algorithms could ultimately replace 300 million jobs, and with its ability to interpret vast amounts of data and identify patterns, AI is expected to significantly disrupt the capital markets.
Recently, the University of Florida analysed the accuracy of ChatGPT in predicting whether a news item would affect stock prices positively or negatively.
The results showed AI could make accurate predictions on stock performance and demonstrated that traditional models did not provide any further predictive power over ChatGPT.
Since AI algorithms can process market data in real time, they can react to changes faster than ever before. This will inevitably lead to more algorithmic trading, where machines are able to make trades at the appropriate time without human intervention.
Financial firms are already using AI to understand their customers better. As this tool is refined, it will be able to assist in developing more personalised products and services based on customer behaviour and potentially other public data, such as social media activity.
AI-driven technologies are also being used to detect fraud and money laundering. By analysing large pools of data and identifying suspicious patterns, AI can help financial institutions prevent fraud far more quickly than before.
While AI offers an exciting future for the capital markets, there are some concerns that its increased use could have negative consequences, such as creating market bubbles or amplifying financial instability. But despite that, the rapid introduction of AI tools means that by this time next year, they will undoubtedly have had a significant impact on the sector, offering faster and more accurate decision-making and analysis.
ESG focus remains high but pushback is growing
Investing with ESG principles in mind has become a hot topic and the fastest-growing segment of the asset management industry.
ESG principles consider environmental, social and governance factors alongside financials.
Ethical investment principles saw companies unwind their investments in Russia last year and the pandemic highlighted the need to consider societal impacts alongside investments. Locally, the recent climate events highlighted the importance of integrating ESG factors into investment strategies.
Despite growing interest in sustainable investing, the number of new sustainable fund launches has declined this year, according to financial services firm Morningstar. Regulatory uncertainty and increasing concerns about greenwashing are likely contributing to this trend, highlighting the need for greater transparency and accountability in the ESG space.
But while major investors continue to emphasise the importance and performance of ESG investing, some of Wall Street's largest asset managers, private equity firms and brokers have warned that a backlash against sustainable investing has become a significant risk.
Larry Fink, CEO of BlackRock — one of the world's largest asset managers — was one of the early and vocal supporters of ESG and stakeholder capitalism. However, in his annual letter this year, he de-emphasised ESG investing and entirely avoided using the three-letter acronym.
ESG has become a complex and challenging topic, particularly in the United States, where anti-ESG sentiment has gained momentum. Republican governors from at least 19 US states have pledged to resist ESG investing, and high-profile Republican figures Mitch McConnell and Ron DeSantis have campaigned against the use of strategies that penalise fossil fuel producers.
According to Fink, Republican state treasurers withdrew around US$4 billion ($6.3 billion) from BlackRock last year.
There are indications that US investors' interest in green investing is waning due to repeated attacks on "woke capitalism".
Scepticism towards ESG investing is likely compounded by the poor performance recently by technology stocks — a sector that green funds typically favour.
Increased interest in alternative investments
Alternative investments, or "alts", are gaining popularity and finding their way into the portfolios of everyday investors.
These investments, which include hedge funds, private equity, venture capital, cryptocurrencies, commodities and rare collectables, have little or no correlation with traditional asset classes like stocks and bonds, providing investors with more diversification options.
The alternative investment industry gained momentum and accessibility after the economic downturn in 2008. With last year's volatile stock market and the anticipation of slower growth and persistently high inflation, demand for alternative investing continues to rise.
Previously, alternative assets were only easily accessible to sophisticated investors. However, the growing number of alternative exchange-traded funds (ETFs) and managed funds are making them more mainstream, as investors look beyond conventional asset classes for returns in an unpredictable year.
All eyes on October
The coming general election is poised to have a significant impact on New Zealand's capital markets.
Current polling suggests Labour v National could be one of the closest contests in some time, and likely to hinge on the decisions of kingmaker coalition parties — potentially Te Pāti Māori or New Zealand First.
Elections are viewed as significant risk events for market participants due to the potential changes in government policy and associated uncertainty.
It is already clear that wealth inequality, tax and inflation will feature prominently in the upcoming political debates and investors will be closely assessing the policies, platforms, and "bottom lines" of parties, and their wider implications for the economy and capital markets.
In the lead-up to October 14, the stage is set for a period of increased fluctuations in share prices and currency value, and uncertainty in the capital markets.
https://www.timmccready.nz/wp-content/uploads/2023/05/Capital-Markets-megatrends.jpg
991
685
tim.mccready
https://www.timmccready.nz/wp-content/uploads/2020/03/TimMcCready_banner.png
tim.mccready
2023-05-25 11:28:55
2023-05-25 11:29:37
Capital Markets: Can ChatGPT predict share price performance? (NZ Herald)